5 Common Compensation Agreements Between Small Business Owners and Lawyers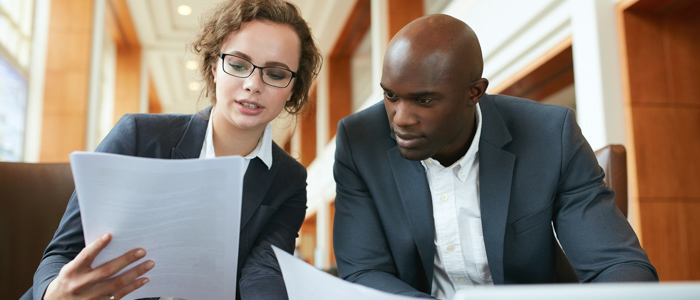 This article was updated on September 16, 2018.
When you're running a small business, you may need to hire a lawyer from time to time. These professionals tend to have a few different types of compensation structures when they offer legal assistance for small business owners. As a best practice, you should understand how the different compensation arrangements work so that you can decide on the right one for your business.
Hourly
Most lawyers charge an hourly rate for the amount of time they spend on your legal work. There's quite a range in what lawyers charge, which can be anywhere from $150 an hour to over $1,000 an hour, according to The Muse. If an attorney charges hourly, you should ask how they handle the time calculation, especially when it comes to rounding up or down. Do they count the exact time or round up to the nearest half hour for all work? You'll want to know this in advance so that you don't accidentally make a five-minute phone call that costs you over $100.
Flat Rate
Lawyers can charge a flat rate for some types of legal assistance for small business owners. This type of payment method usually applies to general, straightforward legal requests that tend to take a clear-cut amount of a lawyer's time. For example, a lawyer may help you set up an LLC or file a trademark application at a flat rate. This payment method allows you to know exactly how much you will pay for legal assistance up front.
Retainer
A retainer is an advance payment for legal services. As lawyers provide legal work, they deduct the cost from the retainer. Once your lawyer has spent the entire retainer, you will need to deposit more money. If an attorney wants a retainer, you should ask if they will guarantee that you will receive a refund if you don't use up all the money. Some arrangements forfeit any unused amount to the attorney if you stop working together or wait too long to spend the entire retainer.
Contingent Fees
Contingent fees are based on the outcome of a court case; the lawyer only earns money if you win the case and receive a payout. Then the lawyer receives a percentage of the payout. This fee structure is less common when it comes to charging businesses for legal advice. But this payment method can still be used in certain cases, such as if you're suing a competitor. Contingent fees can be a great option if your business is short on funds. Still, this payment plan could end up costing you more in total than if you had just paid the hourly rate.
Value Billing
With value billing, attorneys make more money if they create a positive outcome through their legal advice. For example, this payment plan may come into play if your lawyer helps you get a 10 percent discount during contract negotiations with a supplier. This system can be useful if you want your attorney's incentives to line up with your business goals.
The options listed above are the most common types of compensation arrangements between lawyers and small business owners. Chances are that you'll use one of these payment methods if and when you consult an attorney for legal advice.