Benefits of Digital Wallets for Small to Midsized Businesses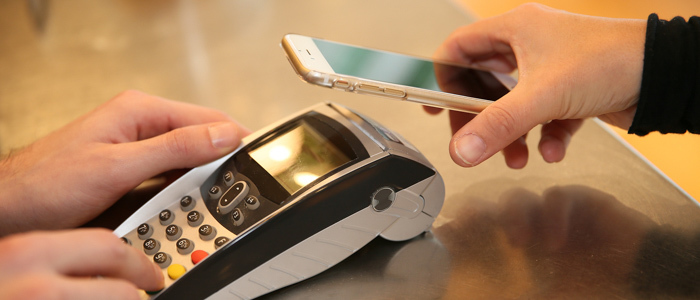 This article was updated on July 2, 2018.

The use of digital wallets is becoming increasingly common when making purchases. This technology can benefit small and midsized businesses by allowing transactions to happen more quickly and efficiently.
What Is a Digital Wallet?
A digital wallet is an electronic device used to make transactions electronically, essentially replacing your physical wallet with a smartphone or a computer. For instance, a person can use a digital wallet to make a purchase in a retail store using a smartphone app, or make a purchase online via a desktop app. The data required to conduct these transactions, such as credit card numbers, loyalty card membership details and site passwords, are either stored in the cloud or encrypted in the user's computer, according to PCMag.
Benefits
Small and midsized businesses can use digital wallets to help build a seamless experience. This technology can help your business simplify the purchase process by storing the customer's credit card data on your server. Customers may be more likely to purchase items in their virtual shopping carts when the purchase process is streamlined. Long, complicated purchases or several attempts to make a purchase can cause the customer to abandon their shopping cart altogether.
There are several digital wallet providers on the market that can add a module to your online shopping software and make checkout an easier process. However, due diligence is always necessary when researching a provider to ensure the utmost security and reliability.
You can also implement digital wallets at the point-of-sale. In this case, a vendor will need to add additional hardware to allow for near-field communication (NFC) technology to accept and read digital wallets. Your employees will also need to be trained on the new systems so they can effectively explain their use to customers and troubleshoot any issues that may arise.
Should You Implement It?
If you choose this technology for your online store or at the checkout counter, it is best to offer it as an additional form of payment until a vast majority of consumers are utilizing the technology. Consider whether your company's unique customer base is likely to adopt digital wallet technology early, or if they will wait for it to become a more prevalent payment standard. Although using the proper technology can make the checkout process more efficient, your customers have to participate to make it worthwhile. If you have a technology-savvy customer base, it may be worth pursuing the implementation of digital wallets. If not, it may make sense to continue market research in order to determine the right time to jump in.