Adapting Technology Is Essential for Recruiting and Retaining Talent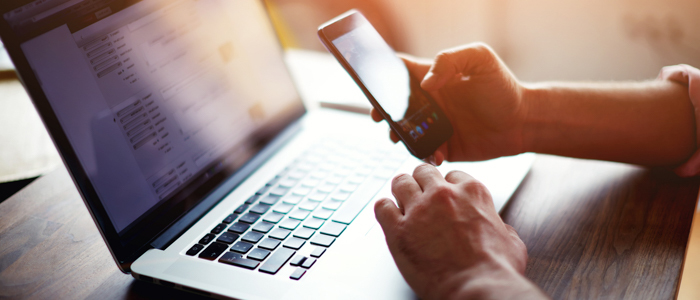 This article was updated on June 13, 2018.
Adapting technology to meet the growing changes in the workforce can help businesses better recruit, retain and manage their human capital. CFO Magazine surveyed finance professionals in large and midsized organizations and found that nearly three quarters of respondents believe their organizations will be pressured to bring IT systems in line with consumer technologies in order to meet the challenge of attracting and retaining talent. While 85 percent of respondents said that, over the next five years, their organization's success will depend on their ability to keep pace with rapid technological changes and increasing business complexity.
Recruitment Marketing
Smartphones and new technologies are not only changing the way consumers shop for products and services, but also how they interact with employers. Job seekers now expect highly functional websites and apps that enable them to learn more about the organization, review benefits and policies and easily apply for jobs all from the convenience of their mobile device. Many organizations are now using candidate relationship management (CRM) technology to improve their recruitment by treating talent acquisition more like a function of sales. This technology can benefit HR departments by offering a platform to enhance engagement and gather more analytics to gauge the ROI of their recruitment strategies.
Organizations will have to keep up with technologies to remain relevant to candidates. A recent survey from Pew Research Center indicates nearly 80 percent of job seekers use online resources in their employment search. While nearly half said their smart phone was "very important" in their job search, half of those surveyed also said they experienced problems with job-related content not properly displaying on their phones, according to the Pew Research Center.
More and more employers are leveraging technologies to streamline the hiring process, as resumes are being replaced by constantly evolving representations of experiences. In today's job market, candidates research organizations as much as the other way around, so organizations need to increasingly rely on technology to promote their brand and stand out in a crowded job market.
Adapt to Consumer Technology
The shift in the job market has changed how organizations look at hiring and the way candidates respond. Businesses can optimize their recruiting efforts by using metrics such as where they are sourcing applications, the quality of the applicants and follow-through. Employers should ensure their career sites and apps are optimized for mobile devices and offer easy access to application pages, as the Pew Research Center reports that "68% of American adults now own a smartphone, and 41% of these smartphone owners have used their mobile phone in some aspect of a job search."
Nathan Perrott, director of technology and candidate solutions at TalentBrew, says in Personnel Today that organizations should be leveraging and adapting technology to form meaningful relationships with talent that goes beyond simply "broadcasting" ads. Employers can use things like re-engagement software, programmatic marketing, video content and the optimization of mobile strategies.
Many organizations are already adapting technology to engage their employees and cater to their specific communication needs on both the front and back end. Mobile apps that allow HR leaders to access worker profiles, manage schedules and approve transactions from their smartphone, also give employees better work-life balance by allowing them to easily clock in and out, view pay statements, manage their benefits and notify supervisors about absences.
Mobile strategies that are being used internally to retain your best will also need to be used externally to attract and recruit new talent, which is why finance leaders should consider bringing their enterprise IT to the standard of consumer IT. Businesses who have the infrastructure in place and the wherewithal to deftly adapt to technological changes should be well prepared to find success in today's rapidly evolving business landscape.