Humans of HR: Taylor Foss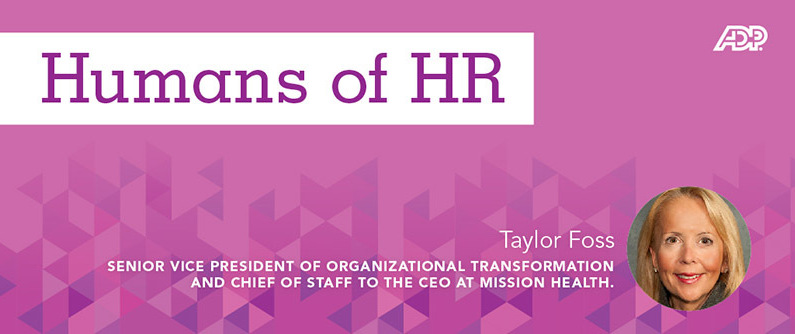 Taylor Foss, Senior Vice President of Organizational Transformation and Chief of Staff to the CEO at Mission Health, discusses the role of HR within an organization.
Taylor Foss loves a challenge.
She is fearless. But not in a reckless way. Taylor is simply not afraid to learn new things, take on the status quo, or come up with a creative solution that changes everything.
She says it's partly because she moved a lot as a kid. Instead of hanging back and working her way into new places and schools, she learned to assimilate quickly. When her family moved during 8th grade, by the first week she had figured out how to get in the honors program, make the cheerleading squad, join the glee team, and find a boyfriend.
Taylor once applied for a job as a Word Processing Supervisor without even knowing what word processing was. No problem. She researched it, wrote a proposal, and got the job.
Taylor's first HR position was with Oral Roberts University where she not only did recruitment but she also developed the first Affirmative Action Plan for the University.
She then moved to banking where she held a number of positions with increasing responsibility over the next 25 years. Her portfolio also included many administrative and operational areas beyond HR.
Taylor became interested in working in healthcare while volunteering at the hospital to care for babies born with drug addictions. She then worked for a healthcare system in Baltimore where her primary mission was to change the culture and partner with the CNO to create a magnet hospital that would attract the best and brightest doctors and nurses.
Part of that process was to work with senior leaders and physician leaders to address some physician behaviors that were not conducive to creating a great work environment. Taylor understood that culture depends on the people who work there and how they interact with each other. You can't change a culture when key people make it unpleasant to show up for work. Ultimately, the organization was named one of the Best Places to Work by Fortune magazine.

From there, she was recruited to Mission Health where she is currently the Senior Vice President of Organizational Transformation and Chief of Staff to the CEO. Mission Health is located in a community where people are spread out in the mountains and are hesitant to see a doctor until it's really serious. One of the key components to Mission Health's mission is to provide education to help people understand the value of preventative care and early intervention, then to provide those services in ways people can use them effectively.
That meant changing the organization as well.
Taylor started with the HR team. She believes that the role of HR is to work with leaders to "create an environment where everyone can be their very best". She sees HR as a creative and strategic business partner within the organization. When she arrived, HR was reactive, stressed, and overwhelmed. Taylor started with the power to say 'No'. It gave people some breathing room to figure out what they wanted and needed to do instead of just respond to the next issue.
In addition to the HR Strategic Business Partners, HR also included Centers of Excellence for key functions and services. The Center for Leadership and Professional Development (CLPD) and a Team Member/Volunteer Engagement Team were two of those Centers.
So the structure was in place and was working. Mission Health focused on their patients and quality and HR partnered with them. However, even though the quality scores and patient experience scores were phenomenal, the employee engagement scores were flat for several years in a row. It was clear something had to change and after much research, Taylor landed on a strengths-based approach and TMBC. There was so much data that supported this process that it was an easy sell for the CEO and the executive team. She also received a great reception from her HR team, who immediately saw the impact a strengths-based culture could have.

Using TMBC, Taylor asked the Team Member/Volunteer Engagement Team, the CLPD team and HR Strategic Business partners to help educate and implement the TMBC StandOut tools across the system. In addition, Mission Health eliminated performance reviews and annual employee engagement surveys. Instead of grading people, she encouraged team leaders to focus on people's strengths, to talk about what was going on in constructive ways (Talent Conversations), and to empower people to make changes when things were not working. Engagement Pulses, one of the StandOut tools, give leaders great information on their teams in a very timely manner.
Within a year, engagement was up 120%, people were more effective in their jobs, first year retention was improved over 6%, and you could feel the change wherever you went in the organization. StandOut is now part of the DNA at Mission—team members love the fact that their team leader knows them and pays attention to them every week. Team leaders love knowing what each team member needs from that team leader every week. Taylor states that "we all know the real work gets done in teams and these tools provide a wonderful way for teams to communicate and connect every week."
Taylor's advice is to lead courageously. "Don't be afraid to try new things. Take a lateral move to learn a new skill. Let go of always going up. You want new experiences because experience gets you to extraordinary."