Succumb to Madness: Don't Be Afraid of $4 Billion in Lost Productivity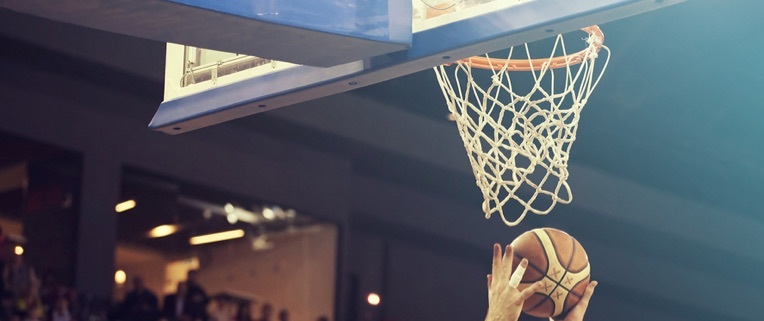 It's no surprise that March Madness has an impact on the workplace.
March Madness is nearing its end. We've watched 64 teams get whittled down to the Final Four, and the country now eagerly waits to see if the heavyweights will take it all or if the Cinderella story out of Chicago will get its happy ending. The excitement of the tournament is at its peak and it's likely that excitement has impacted your office.
It's no surprise that the NCAA college basketball tournament has an impact on the workplace. Every year, research reveals, billions of dollars (you read that right, billion with a B) are lost due to low productivity during the tournament. This year, the estimate is around $4 billion!
The games are so popular the NCAA created a "Boss Button" for those who watch at work. The button takes the viewer to a fake slide deck about office etiquette. (Pro tip: You can make the slides spin by clicking the "align left" and "align right" buttons.)
With so many workers watching basketball, you might expect a serious dip in productivity at this time of year. But a survey commissioned by TSheets reveals you can help your employees be more productive during the tournament.
Smile, don't frown — turn expectations upside down
My mom used to say it takes more muscles to frown than it does to smile. While this isn't really true, it certainly is true with what some call Basketball Christmas.
The basketball tournament will inevitably impact your office whether you want it to or not. One survey found the average employee spends 26 minutes a day on tournament-related activities. So why not steer into the skid?
It seems counterintuitive, but the best way to get your employees to watch less basketball seems to be encouraging them to watch more of it.
The TSheets survey shows employees who are encouraged to watch March Madness at work watched fewer hours than those who are discouraged from watching the tournament. That might be a bigger upset than the No. 1 seed, the University of Virginia, losing to 16 seed University of Maryland Baltimore County.
When bosses encourage their employees to watch the NCAA tournament at work, employees tend to only watch one to three hours and are the least likely of those surveyed to have games on continuously.
This is especially shocking when you compare it to employees whose bosses are against watching the games at work. Nearly half (48 percent) who say their boss does not want them to watch games at work have games on all the time.
These employees typically watch in secret anywhere they can: under tables, in stairwells and cars, during meetings, and while working from home. But the most popular place to watch while hiding from the boss is on the toilet — gross.
Boost morale over productivity
While the $4 billion figure isn't great for productivity, the picture might not be as bleak as it seems. Sixty-eight percent of employees surveyed perceive the NCAA tournament either increases their productivity or doesn't affect it at all. So what college basketball games supposedly lack in profit-boosting productivity, it makes up for in its ability to drive up workplace morale.
The most common responses to how the tournament impacts morale are employees look forward to coming to work more, they enjoy their work more, and they have an increased sense of camaraderie at work.
According to the survey, employees often put in extra hours to make up for lost productivity, especially when their employer is ok with people watching the tournament at work. Almost half (45 percent) of those who put in extra hours during the tournament have a boss who encourages them to watch games at work or watches games at work with them.
Compare that with employees whose boss is against watching the games at work. None put in extra hours, and 29 percent work fewer hours.
High rolls, low spirits
While most employees say the NCAA tournament has a positive impact on the workplace, there is a small group who disagree: the ones who bet on the games. More than half of those who say the tournament decreases morale bet $1,000 or more on the tournament. Three-quarters of this group also say the tournament decreases productivity.
These high-betting individuals have a much different experience with the tournament and it's easy to see why. That's a lot of money to have on the line, not to mention, it could be illegal.
Watch out for these individuals, as they might find the tournament more of a stressor than a fun and engaging office activity.
3 pointers: How to shoot for a productive work environment
While you can't always control how much your employees watch the tournament at work, you can control the kind of experience they have.
Acknowledge that you understand their desire to participate by creating ways for them to do so. Creating a designated area or time for people to watch their favorite games can be a great way to allow for a good work-play balance. You can also consider offering a flexible schedule (if you don't have one already) on days when games are played during work hours. This can also prevent employees who aren't interested in the tournament from being distracted by cheering or uncontrollable weeping.
Communicate expectations by telling your employees what needs to get done. Just because games are on doesn't mean work stops. If employees know what tasks they need to accomplish, they can prioritize, take ownership of their time, and catch up on the madness when they can.
Enjoy the experience with your employees and don't be afraid to get involved. March Madness only comes around once a year so make the most of it. Use the tournament to engage with your team rather than make them feel like Big Brother is watching.
Don't let the headlines scare you. You can enjoy the fun and succumb to madness.
About TSheets
TSheets is an ADP Marketplace partner and the #1 rated, cloud based time tracking solution in the world. TSheets is quickly making paper timesheets obsolete. With mobile, kiosk, tablet and other cloud-based timesheet solutions that integrate with top accounting software like QuickBooks and payroll software including RUN powered by ADP, TSheets gives employees and employers (plus their accountants and payroll managers) in 100+ countries mobile, flexible tools to track what happens at the office and in the field. TSheets also helps business owners by ensuring accurate hours for payroll, providing an easily accessible audit log, giving business owners overtime management tools, and providing resources to help business owners navigate these regulations. With over 8,000 5-star reviews online, TSheets is the top rated and requested time tracking solution for accounting professionals, small businesses and the self-employed. For a free, 2-week trial of TSheets, click here. If you already have TSheets and would like to integrate with RUN powered by ADP, click here for the TSheets Connector.