The Pros and Cons of Having Employees BYOD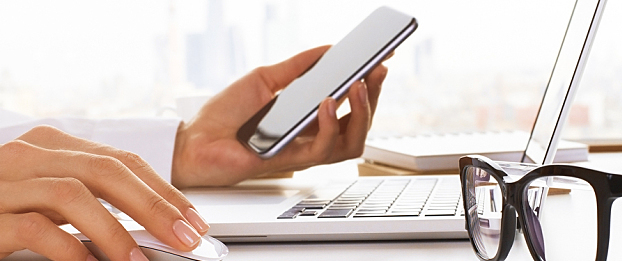 With the world becoming increasingly mobile and global, regular business hours and set work locations are becoming less important. Ninety-five percent of Americans have cell phones, according to a study by Pew Research Center, which means nearly everyone is already connected. Does that make providing employees with cell phones redundant? Bring your own device (BYOD) is becoming more popular at many workplaces, but there are pros and cons. Here's what you need to know when you create a cell phone policy at work.
Pros
1. You Save Money
Cell phones aren't cheap, especially if you need to keep up with the latest technology. Since 77 percent of Americans have smartphones, according to Pew, you can keep your budget in line by having employees use their own devices instead of purchasing them a second one. In addition, you will need to provide everyone with a cellular plan. Depending on the size of your staff and the amount of data you need to provide, this could be costly.
2. It's Easier for Employees
Having two phones can be cumbersome. Not only will an employee have to carry both devices, they may need to get used to new tools and features. Employees who already own phones have chosen the brand they prefer. Having them use their own device for work is convenient and seamless. This also helps in making them more productive.
3. You Stay Connected
When an employee uses their own device, they will most likely carry it with them at all times. This makes it easier to reach them when there is an after-work emergency. If you provide a business phone, they may use it only during business hours.
Cons
1. Personal Devices Put Business Information at Risk
Business phones are more secure. Using a personal device to handle confidential or sensitive information, such as customer data or financial reports, is a risk. If the device is lost or compromised your information could easily get into the wrong hands. When devices are owned by the business, you control the ability to remotely wipe or lock them. You also can ensure the phones have the latest security software. Only 22 percent of Americans say they install updates when they're first released, according to Pew.
2. Some Employees May Not Be Able to Provide Full Service to Customers
While 77 percent of Americans have smartphones, 23 percent do not. If you want employees to be able to respond to email or access your database while on the road, it's possible that a few of your team members will lack this ability. Providing a company-owned phone ensures that every employee can serve your customers at the level you prefer.
3. You Risk Employee Burnout
While it's nice to be able to reach employees after hours, it also puts your team at risk of burning out. In a report by the Academy of Management Proceedings called "Exhausted But Unable to Disconnect," professors from Colorado State University, Lehigh University and Virginia Tech found that an "always on" culture leads to disengagement and stress. Reduce this risk by creating an after-hours policy for calls and emails.
If you decide to allow employees to use their own phones, don't leave them to their own devices. Just 39 percent of companies have BYOD policies, according to Betanews. By implementing a cell phone policy at work you can keep your organization safe and your employees happy and productive.
Stay up-to-date on the latest workforce trends and insights for HR leaders: subscribe to our monthly e-newsletter.