Does Your Workplace Need a Millennial Makeover?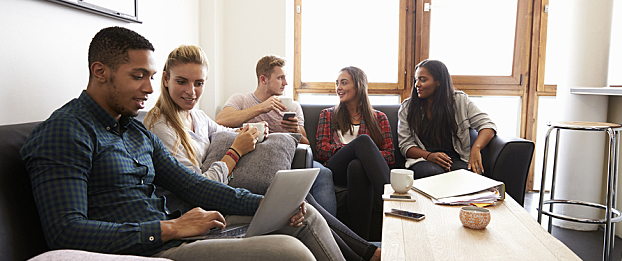 With four generations of employees in the workplace today, recruiters and HR leaders must understand and manage a diverse set of workers. Different generations have different points of views and motivations, and the largest group of those is millennials. By 2025, 75 percent of the workforce will be made up of people born between 1982 and 2000, reports Forbes.
Managing millennials in the workplace may require a shift in thinking as well as an overhaul of your HR processes. Millennials expect flexibility and value work-life balance more than any generation before them, according to a report by Deloitte. In fact, nearly two-thirds of millennials would prefer to work on a freelance basis, as a direct contractor, through an agency or on a "gig" basis, working for multiple companies at once. This makes HR functions such as tracking time, developing benefits and designing time-off policies more complex.
Get in the Game
Start serving millennials by taking a look at the roles you need to fill; decide where you can offer workers flexibility. Are there jobs suited for freelance or remote employees? While this is a change from traditional work arrangements, having some of your workers out of the office actually benefits the employer; the Deloitte report found that flexibility correlates with improved performance. Advertise your positions on sites such as Upwork, the most popular freelance site on the Internet according to Forbes, as well as Guru or Freelancer.
Set Up Systems
Using freelance help could mean a change in the recruiting and hiring process. Department managers often directly hire people to fill their needs, bypassing the HR department. Stay in the loop by establishing a budget as well as a system for coding costs. Freelancers may have higher rates, but the organization is not paying for benefits and other costs. So, figure out how to compare the total cost for freelancers versus full-time employees in your organization. If you find that you are spending as much or more on freelance workers, consider converting the position(s) to full-time position if the role will be ongoing.
Make sure your organization stays compliant with freelance legislation that governs the definition of an independent contractor versus an employee. The IRS's general rule is that an individual is an independent contractor if the payer has the right to control or direct only the result of the work and not what will be done and how it will be done.
Systems that manage workflow and communication may prove useful, especially if you hire remote workers. Look into a platform like Slack, which allows you to quickly message team members as well as facilitate meetings. Millennials want to be plugged in all of the time, and these tools are more efficient than email. For sharing work, consider Google Drive or Dropbox — which allows cloud access and an ability to send and receive large files. Also, choose one calendar and email platform, such as Google or Microsoft Outlook, to ensure that schedules are in sync. In choosing, remember to look at whether the data is transferred and stored securely.

Design an Attractive Compensation Package
For full- or part-time millennial employees, it's important to know that salary isn't always their primary motivation for deciding where to work. According to a report by Forbes, this group appreciates the ability to customize their compensation packages with things like additional days off, flexible hours, telecommuting, discounts or cafeteria coupons. Rethink your benefits packages and consider offering a variety of options.
Be careful offering benefits to freelancers, advises the Society for Human Resource Management. Offering coverage under your health plan puts you at risk of being seen as having a full-time employee, and that could turn into penalties from the IRS. Some companies work as brokers for their gig workers, matching workers with self-paid insurance plans.
Don't Overlook Onboarding
Just as you would with regular employees, onboard your freelance or agency-provided talent. This can help set expectations and help freelance employees understand how things work and make them feel valued. Coordinate with managers to establish clear guidelines around the work as well as the payment. Be sure to pay invoices in a timely manner. And consider offering perks, such as bonuses or discounts to services or products you sell. Onboarding and engaging remote workers presents a challenge, especially when they work closely with in-house team members. Use a video conferencing software tool such as Yammer or Google Hangout to provide the visual element that helps teams bond.
Just like any generation, not all members are alike. While managing millennials in the workplace it's important to realize that just as people change, so too should your environment. By being open to new ideas and new ways of doing business, you invite your organization to progress as needed.
Stay up-to-date on the latest workforce trends and insights for HR leaders: subscribe to our monthly e-newsletter.