ADP Women in STEM Profile: Jennifer Cambern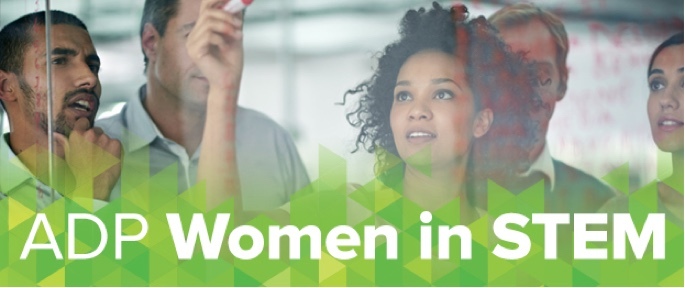 Part 3 in the ADP Women in STEM series
Continuing our profiles of some of the many extraordinary women in STEM at ADP, we sat down with Jennifer Cambern, ADP's Chief Product Owner and Vice President of Product Management for National Account Services.

Jennifer has been a huge proponent of Pay Equity for Women and ADP's Pay Equity Explorer. I've heard her speak several times about the issue, most recently at the HR Technology Conference's Women in HR Tech sessions. Her intelligence, passion, technical expertise, and down to earth approach are always a delight to experience.
Here's a little bit more about Jennifer in her own words.
How did you end up in STEM?
I have always loved the Life Sciences. I even scored a perfect science score on my ACT test, which supplied funding for my first two years of University as a Botany major.
The life sciences are still a source of inspiration. I'm an avid gardener and work to conserve nature through the Nature Conservancy- my favorite charity.
How did you move from a love of natural science to technology and software?
I found that my technical bend allowed me to start a minor career during college. I ran a small business that ran backups for new computers. It was a natural fit- running a business in tech and doing my homework.
How did you get to ADP?
It was a long process, I worked for everyone else in the business first. Ceridian, Millennium, Ulimate, Lexis Nexis, I've worked for them all. I am so excited to work for the market leader.
What do you enjoy about working in STEM?
Something innately speaks to me about the marriage of technology and the advantage to clients. I've been in their shoes - I understand the 'lift' they expect from technology. I also appreciate the communications challenge of connecting business, technology and the market (with analyst relations).
What is it like to do your job?
You will never say the word NO more often than in Product Management. Resources are always less than you'd hoped and the job is to ensure that we are focusing those resources on the greatest returns. It's hard to maintain laser focus and easy to try to please everyone. So, I help my team stay focused on delivering both value and outcomes.
What is your favorite part of your job?
I LOVE visiting clients. Even MAD clients. I find that most of them are extremely rational in their desires and what they want from ADP. They simply want someone to listen and be empathetic. Ultimately, we both want each other to be successful.
If you could be more involved in one thing at work, what would that be?
I wish I had more time to work with the Women in Leadership organization. I mentor 3 individuals currently, but I wish I could give back more. I also volunteer for several Breast Cancer organizations, but again, I wish I could do more.
Tell me about a time you made a difference for others at work?
I attempt every day to help my team learn to be BETTER empaths for our clients. Our clients love ADP and they simply want to know that we LOVE them back.
What project or initiative did you have the most fun working on?
I truly adore when we see the full life cycle of an enhancement from the time we build a business case through recognizing revenue via marketing campaigns. I love to be able to point back to successful strategies like our decision to build ACA into Workforce Now to drive a vastly increased attach rate. This was a huge accomplishment for ADP and especially Major Accounts. Also, the ability to roll out analytics to our ADP Vantage HCM clients, like Pay Equity, which I truly believe makes a difference in the outcomes of the lives of individuals.
What part of your job means the most to you?
Seeing clients using our product enhancements. Specifically, our Product Owners and Senior Product Owners meeting with clients to review How and Why they use our products to accomplish business results and seeing the outcomes for the clients. Performing services like time and motion studies, roadmap reviews, troubleshooting and our Product Advisory Councils and Bridge enhancements.
What are some of your biggest challenges and what did you learn?
In my job, working with the external analyst community, it's really hard to get them to view ADP with a fresh eye. I've learned that the voice of our clients is key to turning their opinions. We can talk all we want, but a client's voice is like the trumpets at the walls of Jericho.
If you could go back to being 12, what would you tell the younger you abour life and work?
More education faster! I grew up in a family that didn't value a college education. I am the first to graduate with a Bachelor's degree in both my family lines and I pursued my masters in my early 40s. Education is so key to the future.
What is the best advice anyone as ever given you about work/career?
"Never peak too soon." This sounds crazy, but it was from an amazing mentor who would unexpectedly call on me to respond to client and vendor concerns when I worked for the Georgia Lottery in my 20's. She taught me how to think on my feet and more importantly, it's ok to be funny along the way!
Love it! What is your favorite joke?
It's a quote actually- by Hunter S Thompson:
"Life should not be a journey to the grave with the intention of arriving safely in a pretty and well preserved body, but rather to skid in broadside in a cloud of smoke, thoroughly used up, totally worn out, and loudly proclaiming 'Wow! What a Ride!'"