Why Restaurant Owners Should Consider a Payroll Card Program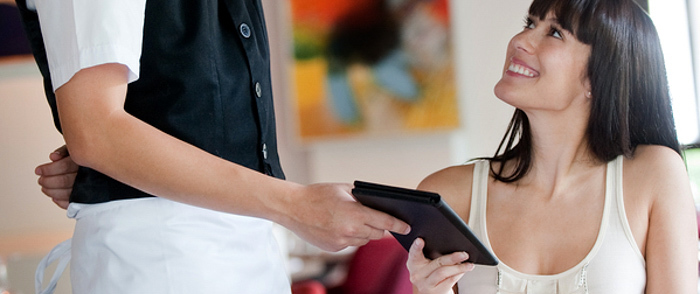 Electronic tipping can be processed more efficiently through an automated pay card program.
Electronic tipping can be processed more efficiently through an automated payroll card program. The benefits for both restaurant owners and their workers make this option appealing amidst an industry projected to add 1.7 million jobs by 2025, according to the National Restaurant Association. Payroll card programs allow employers to track and automate immediate tip payouts that servers can access almost instantly.
Restaurant Industry Landscape
According to the National Restaurant Association, the restaurant industry generated $799 billion in sales for 2016 with 14.7 million workers employed by over one million establishments in the U.S. The domestic restaurant industry is composed of mostly small businesses with 90 percent employing fewer than 50 workers and 70 percent operating just a single location.
Just over 80 percent of restaurants use a point-of-sale (POS) electronic cash register system and 32 percent have upgraded their POS systems to begin accepting mobile payments completed using smartphones, payment devices, and apps. Employee turnover was seen as the top challenge for 46 percent of restaurants with an industry average turnover rate of nearly 70 percent in 2016, according to the National Restaurant Association. It is also the largest employer of teenage workers as a third of all teenagers are employed by this industry. Today most Gen Z workers are not only expecting payroll cards as an option provided by employers, but they are adopting payroll cards for their pay at a very high rate. Hiring is competitive and you want to attract good talent in this industry by offering the benefits that they want.
Credit card usage has been a benefit to the restaurant industry. As the New York Times points out, it's widely believed that customers tend to spend and tip more when using cards as opposed to cash.
Advantage of Paying Tips in Cash vs. Payroll Cards for Employers
Restaurants usually pay out electronic tips in cash at the end of the worker's shift. Since the majority of a server's compensation is derived from tips, establishments must continually replenish reserves of cash on hand, which can pose a security risk. In addition to manually paying out cash tips, reconciling cash outs with sales totals can be a time-consuming task often prone to posting and recording errors by exhausted managers.
Having a payroll card program integrated directly into the POS and payroll system can boost efficiency by streamlining the complete sales and wage payment sequence. Accurate report generation is beneficial to visibility for restaurant owners. Managers can be spared some of the bookkeeping functions and trips to the bank for cash, which can alleviate some of the pressures they already face in their day-to-day job.
Advantage of Paying Tips in Cash vs. Payroll Cards for Employees
Many restaurants opt to bypass nightly cash tip payouts in favor of adding them directly to the weekly and bi-weekly payroll. While convenient for the employer, this does not benefit the workers who prefer nightly payouts to help meet bills and immediate obligations.
The instant payout to a payroll card provides convenience to employees. Additionally, the ability to access account information, monitor spending, pay bills and transfer funds online and through mobile devices provides flexibility. Cardholders are covered with federal protections surrounding error and dispute resolutions and with zero liability policies from Visa or Mastercard and purchase protection that protect against unauthorized transactions once you report your card as lost or stolen. Unlike cash, lost or stolen cards can be replaced.
The Complete Instant Tips Payroll Ecosystem
The award-winning ALINE Card by ADP¨ payroll card program along with the easy-to-integrate Gratuity Solutions¨ POS software enables restaurant employers to accommodate electronic tip calculations, payroll card enrollment and almost instant tip payouts to activated ALINE Cards for their workers through the Instant Funding API and Instant Tips solution available through the ADP Marketplace. Learn more about the complete Instant Tips solution here.
Stay up-to-date on the latest human capital management insights for finance leaders: subscribe to our monthly e-newsletter.
Pay tips instantly to your employees directly to their ALINE Card using Gratuity Solutions. (Separate agreement with Gratuity Solutions¨ only required for Instant Tips, with calculation and disbursement to ALINE Cards within POS system. Employee must activate the ALINE Card to receive wage payments. Clients must have an active ALINE Funding Account with sufficient balance to satisfy all payments.)
The ALINE Card by ADP is issued by MB Financial Bank, N.A., Member FDIC, pursuant to licenses from Visa U.S.A. Inc. and Mastercard International, Inc. The ALINE Card by ADP is also issued by Central National Bank, Enid, Oklahoma, Member FDIC, pursuant to a license from Visa U.S.A. Inc. ADP is a registered ISO of MB Financial Bank, N.A. and Central National Bank, Enid, Oklahoma. The ADP logo, ADP, ADP SmartCompliance, ADP A more human resource, and ALINE Card by ADP are registered trademarks of ADP, LLC. All other marks are the property of their respective owners. Copyright © 2017 ADP, LLC. All rights reserved.