Meet Addi P!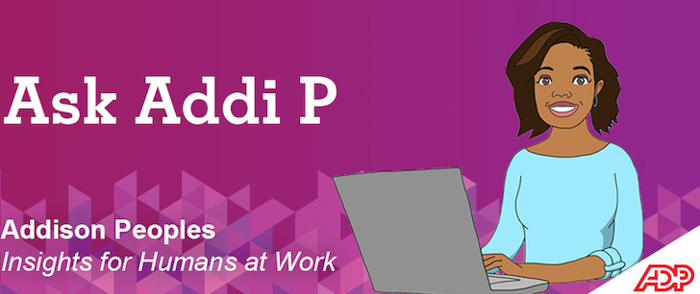 Addi P.'s expertise is based on real humans who care deeply about more than just answers.
We are excited to introduce Addison Peoples. Her friends call her Addi P.
Addi P will be joining ADP's team of writers to answer questions, provide insight and keep you informed about what matters to business, HR and humans at work.
We sat down with Addi to learn more about her and what she's up to. Here's a transcript of our conversation.
ADP: Hi Addi! We are so happy you're here. Tell us a little about yourself.
Addi: Hi. I'm a digital character, so I started out as an idea in a Content team brainstorming session, became a cartoon, and now I'm a writer. I'm really happy and kind of relieved to be here. Being an idea felt a little uncertain and I wasn't sure how I would turn out. I was kind of hoping for more than one outfit, but otherwise, I'm delighted.
ADP: We are too. At ADP, we love seeing great ideas come to life. How do you write your columns?
Addi: I have all of ADP to help me answer whatever questions come up.
I had no idea there were so many kinds of expertise at ADP, but it's pretty extraordinary.
ADP has entire teams of HR professionals who act as the HR departments for businesses that don't have their own. They can address issues about hiring, benefits, wage & hour, payroll, compliance issues, performance management, discipline, termination and almost any situation that arises for ADP's clients.
Then there's the ADP Research Institute that uses ADP's 3 petabytes of data about jobs, employees, and the organizations they work for to understand what's really going on with business and work. They have amazing research and insights about the labor market as well as what's happening inside organizations.
ADP also has data scientists, tech experts, product designers, and engineers to help me understand software, algorithms, analytics, the cloud, machine learning, and my personal favorite, virtual reality.
I'm also completely covered on the human side with access to 57,000 employees all over the world to explain the intersections of people, technology, and work, what it's like, and what matters. ADP even has a business anthropologist who studies people, culture, and business and helps figure out how to design human-friendly tools and software that make work and processes more effective. I can't wait to meet her. Oh, and there are also behavioral economists who study and understand the ways people make decisions. They help ADP create tools that can help humans make more informed and effective choices.
I'm going to learn so much!
No matter what comes up, there's someone here who can help me give our readers useful information, important questions to consider, and point them in the right direction.
ADP: Great! So, what's your philosophy about technology, people, and work?
Addi: I believe that tech and software can improve work, organizations, and business through insight, information, and tools that quickly and accurately do what it would take people a lot longer to accomplish. In some cases, technology can do things that people can't just because computers can process unimaginable amounts of data and learn things that humans would not otherwise be able to see or understand. It's exciting. But I also believe that technology can allow organizations to make work more interesting and meaningful, can help businesses to focus on their employees and customers, and maybe it can even to make the world a better place.
I would like to see technology make humans successful; not just the other way around.
ADP: We agree! What's it like being a digital character?
Addi: Well, I'm kind of like Siri or Alexa because I have so much expertise behind everything I do. But they're more AI, which means they're based on training data, algorithms, and machine learning.
I'm digital. My expertise is based on real humans who care deeply about more than just answers. ADP experts help me think through the questions, understand the context, and offer caring and thoughtful suggestions and responses. We really care about the people who are working hard to build a better workplace, and we want to be a trusted resource for them.
I'm so excited to be part of ADP. (I really like their name.) Thanks for having me.