Humans of HR: Recruiting in a Multi-Location Workplace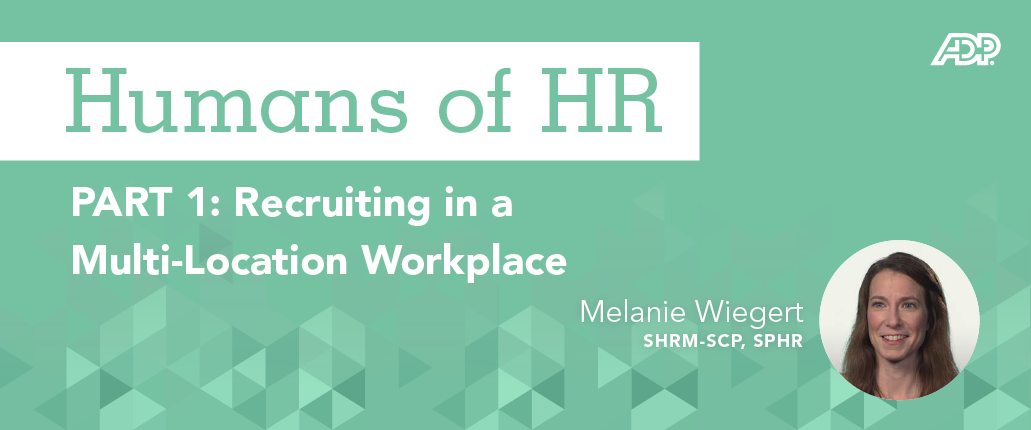 Melanie Wiegert is an HR manager with extensive experience working for organizations that employ a large number of remote employees. But with such a far-reaching employee base, it can be tough to create a cohesive recruiting experience.
Here, Melanie talks to us about how to deliver comprehensive recruiting when you have employees working from home and different offices in Part 1 of a three-part series.
How Do You Handle the Recruiting Process in a Multi-Location Workplace?
Whether you're a multi-site or single-site employer, it's more about having a presence and access to employees outside of business hours. That gives you flexibility in HR staff as to whether you want to house them all under one roof, different roofs or from their homes because it's electronic data that you're reviewing.
When you have people spread out, you still want a way to monitor, manage and have visibility into what's happening. Having a human resource information system (HRIS) or human resource management system (HRMS) is the most efficient way to do this. Thereby, whether it's a hiring manager, HR person or whoever needs to be involved, they can see in real time when an application came in, where they are in the process or if there's an action that needs to be taken before the next position is executed. I think it's less about number of sites and locations of workers as it is about real-time access to information.
How Do You Make Remote Workers Feel Welcome?
In the beginning, you have to be careful during the onboarding process. So much of what you're helping indoctrinate relates to your organizational culture and unspoken rules. When they're not in the same physical space, you have to be more intentional in giving context to "why we do this."
How Can HR Leaders Address These Issues?
Be more hands-on during the onboarding process so you can give real time coaching, model behavior and reinforce and redirect as needed. Be clear in expectations, like how long a particular task should take, how task completion should be reported and about deadlines. And give the person the benefit of the doubt when they tell you why something couldn't be done on time. Finally, HR Leaders have a responsibility to provide managers with real time feedback to how well they are connecting with employees. Remove roadblocks so Managers may form strong connections leading to improved engagement and retention.

What's Your Advice to an HR Leader Who Wants to Create a Cohesive Recruiting Experience?
You want to have a creative experience. Be thoughtful about defining your brand. It's easy to get sucked into being all things to all people both on the applicant side and the current employee side. You could be recruiting anyone from unskilled workers to candidates who hold a doctorate.
I don't advocate a one-size-fits-all approach. You have to look at your brand from an employment standpoint and determine how it resonates on social media or wherever you're advertising openings. How you present your brand should balance with how sales and marketing represents your brand, because you don't want to staff your organization to the detriment of your core business side.
Want more Humans of HR? Check out Part 2 on benchmarking and analytics and Part 3 on a career path in HR.
Stay up-to-date on the latest workforce trends and insights for HR leaders: subscribe to our monthly e-newsletter.