Help Avoid OSHA's "Fatal Four" by Following These Safety Protocols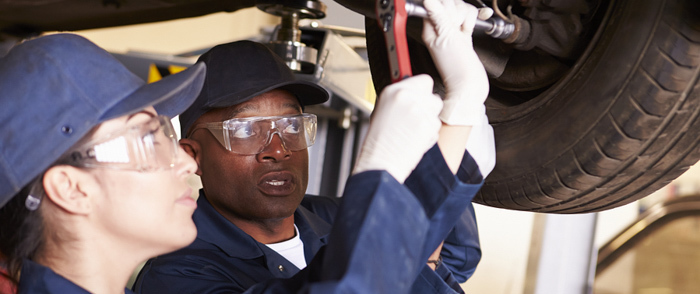 Consider the types of accidents your employees could encounter and develop safety protocols that are consistent with OSHA and any applicable state or industry workplace safety rules.
The "fatal four," as characterized by the U.S. Occupational Safety and Health Administration (OSHA), are the four leading causes of death among workers in the construction industry. In 2015, one in five worker deaths occurred in construction, according to OSHA. However, these incidents can happen in almost any industry.
Excluding highway collisions, the fatal four accident types were responsible for well over half of construction worker deaths in 2015, according to the Bureau of Labor Statistics. They are defined as falling, being struck by an object, electrocution and being caught in or caught between something.
How to Prevent Work Accidents
OSHA publishes safety regulations for preventing all types of accidents at work, including the fatal four. Follow these guidelines to help keep your employees safe.
Falls. Provide protections — such as guardrails, toe boards, safety nets, safety harnesses, stair railings and hand rails — if your employees will be working on elevated platforms or climbing stairs, or if there are holes that workers could fall into. Appropriate fall protection is required in general industry workplaces if workers are at elevations of four or more feet, according to OSHA (or six feet in the construction industry). You also need to provide fall protection if employees work around dangerous equipment, regardless of the fall distance.
Being struck by an object. Construction workers are often struck by falling objects, flying objects or even heavy equipment or vehicles. To avoid struck-by accidents at your workplace, make sure employees only use tools that are in proper working order and don't have any loose parts. Regularly inspect shelving in storage areas to be sure that it is secure, and ensure that boxes and other items are stacked and shelved appropriately. When you send an employee to retrieve something, provide instructions for moving boxes or other overhead items. If employees use company vehicles, make sure to keep up with proper maintenance and require employees to wear seat belts.
Electrocution. It's not hard to imagine how construction workers are at risk of electrocution (e.g., power lines, defective equipment), but there are hazards even in offices. To stay safe, avoid overloading outlets, and inspect electrical cords on a monthly basis for evidence of fraying, cracking or other damage. Unplug appliances, such as coffee makers, when they are not in use to avoid the risk of electric shock.
Caught-in or -between. If your employees work with machinery or power tools, install guards on all moving parts. Also, establish procedures for workers to evacuate the workplace quickly in the case of a building collapse or other emergency.
Whether you work in the construction industry or not, these common types of workplace accidents are worth your attention. Survey your work areas and consider the types of accidents your employees could encounter — then take time to develop safety protocols that are consistent with OSHA and any applicable state or industry workplace safety rules. Keep employees informed of how to stay safe at work and where and how to report injuries or potential safety hazards.