Improve Business Results with 3 Key Insights From Your Time and Labor Data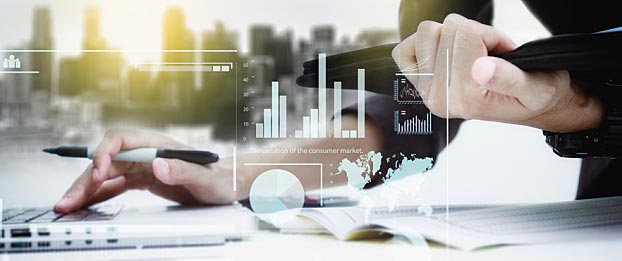 Data insights from time and labor management systems can offer important information when it comes to managing costs, compliance and productivity, and establishing Key Performance Indicators (KPIs) for time and attendance on an organizational, departmental and individual basis. This also lets HR and finance leaders establish a practice of data-driven decision-making.
The use of people analytics in HR, finance and operations is on the rise. Thirty-two percent of organizations feel ready to use analytics, according to Deloitte. "Driven by competitive pressures and the greater availability of more integrated systems, organizations are aggressively building people analytics teams, buying analytics offerings, and developing analytics solutions," Deloitte reports. For many leaders, using integrated tools for tracking time and labor has provided easier access to knowledge than ever before.
Let's review the three most important data insights from time and labor management systems, and how to use that knowledge to benefit your workforce.
1. Labor Costs
Labor costs are typically the largest controllable expense for an organization, and they can be complicated. Understanding the true cost of labor requires leaders to monitor wages, paid time off, leave, overtime and unplanned absences, as well as the use of expensive temporary and replacement labor. With or without changes in these areas, having visibility into these metrics can allow you to better understand them, so you can plan with them in mind while you work on improving. Combine that insight with the use of smarter scheduling tools, and leaders can develop more optimal staffing strategies — strategies that lead to getting the job done for the lowest cost.
Another valuable practice is comparing actual hours worked to scheduled hours to provide HR leaders with a window into where managers are strong or weak at planning, or where budgets need to be reevaluated. For example, if HR identifies a group of employees whose actual hours regularly do not meet their scheduled hours, they can highlight this pattern with the manager, and help them to adjust their staffing levels to decrease the scheduled employee hours, helping to make costs and schedules more predictable and accurate.
2. Overtime
Tracking overtime costs is vital for optimizing labor budgets. Reducing or eliminating overtime is not always the right answer. If managed well, the strategic use of overtime can be more cost effective than staffing to peak levels, because incremental overtime hours can be less expensive than idle time or carrying the burden of additional employees. The key is to understand when and how much overtime is right, and then scheduling accordingly and monitoring it to stay on course.
That said, there is a balance, and employee performance and satisfaction must also be considered when determining the best use of overtime. In many industries, excessive overtime has consequences that extend well beyond budgets. The American Nurses Association, for example, cites preventative errors, employee health risks and decreased retention as three risks of excessive or mandatory overtime scheduling. Overtime management can help improve employee engagement, absenteeism and other important workforce management metrics.
3. Absences
Controlling absences is another key tool for managing costs and productivity, particularly unplanned absences, which can be a driver of overtime and the use of premium-priced labor from agencies. However, when observed in aggregate, trends can be spotted and unplanned absences can be predictable, which means you can manage to that expected level, while you work to make improvements.
Managing planned absences can also be a challenge for many HR leaders. The Society for Human Resource Mangement reports 54 percent of organizations find it challenging to effectively administer employee leave. So having insight into the use of planned leave can help administrators plan workloads and manage the related tasks in a more efficient and compliant way.
Introducing KPIs for absentee management provides more benefits than just understanding patterns in an organization. HR leaders can reduce the burden on middle management and other leadership with absence management data tools. With the help of an absence management tool, you can proactively provide automated notifications of vacation or PTO balances so employees know when they might be approaching their threshold and to the extent permitted by the law, communicate with employees on leave. In addition, the ability to analyze absences can point to patterns caused by personnel issues, managerial issues, poor job performance or workplace design and also help managers to identity when employees may need accommodations.
The Vitality of External Benchmarking
Tracking workforce trends and areas for improvement aren't the only benefits of time and labor KPIs. Benchmarking your organization's labor costs, overtime rates and absences against peers can give you deeper insight into what best practices and realistic goals are for your organization. Benchmarking labor cost data is also essential for remaining competitive in today's marketplace. In an age of tight competition for talent, looking beyond your organization to understand time and labor metrics can yield critical intelligence to inform your employee engagement goals and recruitment strategies.
Workforce analytics can offer your organization benefits that extend well beyond just looking at what has happened. By unlocking KPIs from your time and labor management system, you can proactively maintain better control over costs and improve productivity. While these insights can generate significant impact within your organization, benchmarking your organization against competitors can also reveal truths about opportunities for improvement.