Humans of HR: Margaret Davis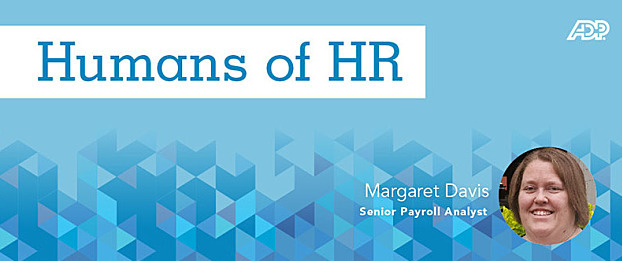 Margaret Davis loves making tech work for people.
She is a self-proclaimed nerd and wears the title with moxie, delight, and a sparkle in her eye.
Margaret grew up in Colorado, but had a chance to work in Seattle right before college where she fell in love with the Pacific Northwest. While in college in Kansas and Kentucky, she managed to spend the summers in Portland working at a camp for kids. She returned to Portland after graduation, initially working for the camp, then for a nonprofit, and later a call center for a large bank.
She started in HR and payroll at a trucking company handling payroll, workers' compensation issues, log books, and trip receipts. It was great. Improving systems, process, and getting the right answers makes Margaret happy.
After performing payroll by hand at an architecture and engineering firm, she knew there had to be a better way. So, she figured out how to design the spreadsheets she needed and began imagining what could be automated. That's when her interest in IT came alive. She considered switching to IT, but loved payroll and its connection to all the people in the organization.
Around this time, the industrial design company was moving to Denver. But Margaret was facing life-changing health issues. While surgery successfully removed the tumor, Margaret had no sensation from the waist down for months. Her doctors did not think she would walk again.
They did not know Margaret. Four months after the surgery, she walked unassisted into her neurosurgeon's office, which confounded and pleased him beyond measure. Her employer supported her recovery and kept her on in Portland for a year, even while it had moved to Denver.
Learning how to walk all over again changed Margaret's perspective on life. A lot of things that seemed to matter, did not matter anymore. Through the process of recovery, "I found a new me."
Margaret also found a new job where she performed payroll and became an expert at the software, testing patches and performing fixes. She then interviewed at KinderCare as the E-time system administrator, which combined her love of both payroll and tech. She's now their Senior Payroll Analyst.
The KinderCare team "is the best department I've ever worked with. We're like a well-oiled machine. We enjoy working together so much, we took out all the high cubicle walls and put in short ones so we could collaborate and be real."
Having a great relationship with her supervisor has also been an inspiration. Margaret knows her contribution to the organization is understood and valued. "It's amazing how it feels when you are appreciated and treated right."
Margaret is not one to keep joy and enthusiasm to herself. She realized that employees often have questions about payroll and the systems they work with, which is a no-man's land between HR and IT. So, she started offering regular Q&A sessions for anyone in the organization to learn more about their payroll deductions, how to understand time and attendance, and how to use the software more effectively.
She is also constantly working to make work processes more efficient. When tackling a question, she takes the user into consideration and designs ways to reduce the time and frustration.
Lately, data and cyber security have sparked Margaret's curiosity. She is thinking about how the principles of keeping information secure and controlling access will affect how we do HR, payroll, and benefits, especially because they deal with sensitive and private data.
Margaret is one of the rare people who intuitively understands how technology and humans can make each other better, which she explains succinctly, "A computer is only as good as the person who configured it."
Stay up-to-date on the latest workforce trends and insights for HR leaders: subscribe to our monthly e-newsletter.