TV Dads Make It Look Easy, But Real Dads Need Your Support to Find Work-Life Balance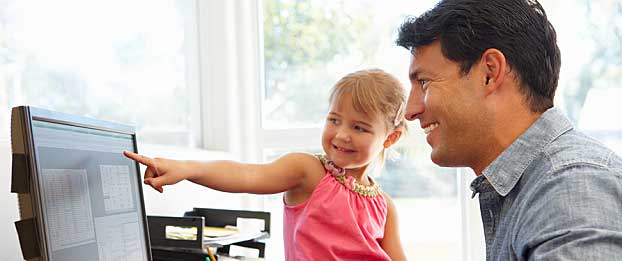 Television dads seem to have an easier time with work-life balance than real-life dads. TIME highlighted the growth of "working dad guilt," the increasing number of working fathers who don't feel they spend enough time with their kids. It's been a perennial concern for working moms too, of course. Pew Research Center confirms the growing worry among working dads — 48 percent say they aren't spending enough time with the kids, compared to 26 percent of working moms. Work-life balance, especially when it comes to spending time with kids, is a prominent concern of both working parents.
TV/Movie Dads and Work-Life Balance
In TV shows like "Black-ish," we see dad Dre Johnson, an advertising executive, both at home and at work, trying to bring his best self to both roles, sometimes with comic results. A constant concern of Dre's parenting, as detailed in Uproxx, revolves around ensuring that his four kids don't become self-entitled because of the financial success he's brought the family. Even as he succeeds at work, he constantly reminds his kids that they need to remain humble, valuing hard work above all else.
Of course, we almost never see some famous television dads at work. We know Philip Banks (Uncle Phil) of "The Fresh Prince of Bel-Air" is a judge, but we almost never see him at work. The same goes for TV dad Danny Tanner of "Full House," who works as host of "Wake Up San Francisco," but who is most famous for fatherly, heart-to-heart talks with his kids. In general, we don't see TV dads struggling to juggle work and home life.
An exceptionally memorable working dad balancing act comes from the movie "Elf," where dad Walter Hobbs hires his rambunctious son to work in the mail room. When Hobbs is forced between a big business deal and his bumbling son, he chooses his son and loses the deal. Indeed, Elf can be viewed as a movie about a workaholic dad who ultimately finds better work-life balance.
What HR Leaders Can Do to Support Working Dad
If working dads want to play a larger role in the lives of their kids, they should be able to look to their organization's for support. Here is what HR leaders should think about to help them get there.
1. As your organization develops and implements policies to support the needs of working mothers, consider the needs of working fathers too. If you offer paid maternity leave for working moms, for instance, why not extend some to working dads? When you craft flexible working policies to support families, you can create opportunities to support and engage working dads as well.
2. As parenting roles converge, working fathers should be communicating about the challenges they face in balancing work and home life, whether those working dads are CEOs or middle managers. Encourage working dads to share their stories and provide them a platform to do so at work, whether at meetings or via digital channels or elsewhere.
3. Fight the stigma too often associated with working parents who utilize flexible working policies. With more and more organizations offering flexible benefits and policies to support working parents, many employees hesitate to take advantage of them because they fear being stigmatized as less committed or hardworking. As you offer flexibility to working parents, you should also proactively encourage employees to use those benefits by disempowering stigmas around their use.
So while TV dads might make balancing work and life seem easy, it can be anything but in the real world. As more working dads seek to spend time with their kids and better balance their life, you have a great opportunity to engage them by offering flexible working policies.
So how will your organization better support and engage the dads who choose to work for you?
Stay up-to-date on the latest workforce trends and insights for HR leaders: subscribe to our monthly e-newsletter.