Humans of HR: Customer Service in HR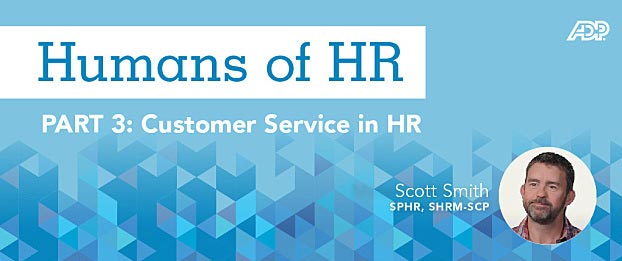 This story was updated on July 22, 2018.

In the first two installments of "Humans of HR" with Scott Smith, director of HR for Tax Management Associates, Inc., based in Charlotte, North Carolina, we learned about his journey into a career in HR and what it's like being a single-source HR person for 150 employees. In this installment, Scott talks about why customer service in HR is important and how it influences the way he interacts with employees.
Let's Talk About Customer Service in HR. How Do Customer Service and HR Relate?
There are a lot of books and seminars on HR. But I think it's simple — treat people with respect, communicate with them openly and honestly and follow your culture and stick to your values.
It's the same concepts that apply to good customer service. I think the way that you treat your customers is the same way employees should be treated.
Was There an Event That Made You Realize This?
I understood the whole hospitality thing. When I started doing customer service training and then started helping out HR with orientation, it just clicked that it's really the same thing.
What Are Some Ways to Give Better Customer Service to Your Employees?
I try to keep current with what's going on in the world of HR. I subscribe to newsletters, blogs and other educational materials I get from our attorney and an employers' association. I'm a member of a local round table as well as a SHRM member. Being an HR department of one, sometimes you just need to bounce something off somebody else. Having people I can talk with is a huge help.
Another thing I do regularly is ask employees for feedback. We try to get their feedback every year and a half to two years, and do employee engagement surveys on a smaller scale in the interim. I ask them, "How is this process for you?," "Is there anything I or the organization could have done to make this easier for you, to make the information more relevant for you, to make the process less annoying?" And I ask that in regular intervals, especially with new hires.
Want more Humans of HR? Check out Part 1 on Human Resource Management and Part 2 on Experience in HR.