Virtual Appointments and Out-of-Office Collaboration: Can HR Effectively Manage Remote Work?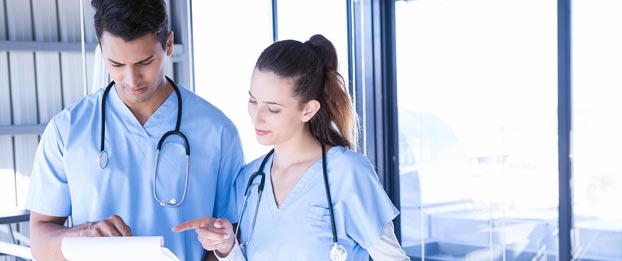 The number of remote workers is growing. According to The New York Times, 43 percent of employees spend time working remotely. That's almost half of all American employees. Business.com, meanwhile, notes that out-of-office workers tend to be happier and more engaged than their desk-bound counterparts.
Even industries that have been reticent to allow at-a-distance employment — such as health care — are embracing the idea of virtual appointments. While this is good news for workers — and may help balance budgets — what does the shift mean for HR leaders? How do they effectively track working hours, manage human capital and ensure that best practices are being followed even when employees are working from home?
Changing Prognosis
As noted by Harvard Business Review, hospitals like Brigham and Women's Hospital (BWH) are on the leading edge of telehealth — letting patients connect with doctors remotely rather than scheduling in-office visits. While this requires medical professionals remain in-house, it also offers the chance for patients to do the same. They stay at home and simply connect via secure video services to camera-equipped treatment rooms. Initial results are positive. Indeed, 97 percent of virtual visit patients were satisfied and would recommend the service and 74 percent felt the interaction improved their relationship with the provider. Orlando Sentinel reports how Veterans Affairs is also leveraging telehealth, allowing vets to attend local physicians offices for examination and then streaming these exams in real-time to specialized practitioners. The result? Veterans make fewer long-distance trips and surgeons are more efficient with their time.
Virtual Appointments
But it's not all good news. Using telecare for virtual appointments may not actually reduce total payer spending. According to Spectrum, telehealth appointments cost around half of typical office visits, but only 12 percent of these visits actually replaced an in-house visit. The other 88 percent were new demand. It makes sense — what patients might consider too minor for a trip to the doctor's office is fair game if they don't have to leave the house. As a result, telehealth services may end up costing just as much as existing visits, albeit with greater patient numbers.
The HR Challenge
This presents a unique challenge for HR leaders. They must manage workflow, hours worked and necessary staffing levels to address the growing impact of virtual appointments and out-of-office collaboration. For example, how do HR leaders ensure physician time is fairly distributed? Do all doctors work in the virtual program some of the time, or do certain professionals shoulder the burden all day, every day? Or consider the impact of new "e-visits" currently taking place at BWH. Patients fill out a form for common medical complaints that don't require a face-to-face visit, which is then emailed to the doctor. Same-day responses are expected from physicians, who are paid per question to answer these forms, suggest treatment options and even write prescriptions. It's ideal for patients tired of waiting and who want answers, not appointments, but may prove a logistical nightmare for HR. How do teams accurately track questionnaires answered, medications prescribed and ensure same-day deadlines are being met?
How to Manage Remote Work
Ultimately, it comes down to designing new processes that treat telehealth and virtual appointments the same ways as in-office visits. This means designing or implementing a back-end solution that automatically tracks and reports this data to HR leaders. Why? Because manually collecting this information from care providers eliminates any time benefits gained and has the secondary effect of putting them off virtual visits — why do more work for slightly less pay and deal with constant questions about hours worked and emails answered? In a tech-driven world, HR should step up and meet virtual solutions head-on with automated, real-time collection tools of their own. For HR, data can be key. Once HR leaders know where telehealth is saving money and where more human capital is needed, they can design effective strategies to improve the experience for patients and doctors alike, all while watching the bottom line.
Virtual appointments and out-of-office collaboration are quickly becoming common place for medical professionals. For HR leaders, this means recognizing the shift in work and personnel balance while simultaneously implementing solutions to record, monitor and ultimately inform HR efforts.
Stay up-to-date on the latest workforce trends and insights for HR leaders: subscribe to our monthly e-newsletter.