Humans of HR: Work-Life Balance in HR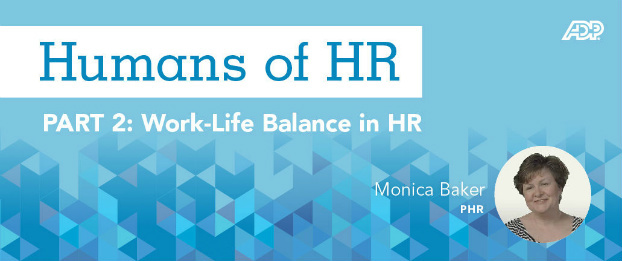 This article was updated on August 29, 2018.
If you ask working people about their goals, many would say that achieving work-life balance tops the list. In fact, Forbes reports that when it comes to future career opportunities, a good work-life balance is the most important factor for millennials.
In part two of our three-part series, we continue our conversation with Monica Baker, chief brand officer for PyraMax Bank. Here, Monica shares how her business takes advantage of workplace flexibility and why conducting interviews at 7 a.m. is changing the game.
What Does Work-Life Balance in HR Mean to You?
Work-life balance is flexibility. How does my employer work with my personal life and how does my personal life interact with my work life? A lot of businesses say they have flexibility, but when the rubber hits the road, there's a disconnect. They say, "Yes, you have flexibility in your scheduling," but you're expected to be there until 5:30 p.m.
In What Ways Do You Offer Flexibility at PyraMax Bank?
We have very robust flexibility with all our departments. As long as there's coverage, we don't care when you work as long as the work gets done and as long as you're putting in your hours. A lot of our employees can work from home when they need isolated work time to work on a significant project. They get the job done, and probably more accurately and efficiently than if they were in the office.
I think that's why we have such great tenure here, because we want employees to attend the magical moments in their lives. And they give back tenfold to an employer who recognize there's a life outside of work.
Also, employees can alter their schedule. For instance, I work from 7 a.m. to 3 p.m. This actually works out well for doing interviews because I can see people at 7 a.m. for an interview and they can get to work by 8 or 8:30 a.m.
Do You Have Work-Life Policies?
We don't have to have a policy — everyone knows this is the culture, which I think is more pronounced than having a policy. For example, one of my employees isn't an early riser. She comes in at 8:30 a.m. But this week, she had to go to an appointment so she left and came back. There's no question because I know she's going to get her work done. And she didn't have to use her PTO — having that flexibility lets people not have to burn a vacation day.
How Has Technology Made a Way for Work-Life Balance?
Probably one-third of our staff has laptops and can work from home, a coffee shop or wherever they meet clients. If they need to take a loan application, they can meet after hours. If I'm off work and want to run payroll from home, I can do so. I have full, secure access as though I'm standing at my computer in the office. It's very seamless, and it's that simple.
What Advice Do You Have for the HR Leader Who Wants to Promote Work-Life Balance in HR?
Go into it honestly and don't say one thing and do another. The benefit to the employer is that it will create a culture of value and commitment. When it's so competitive to get great employees and keep them, this is just another competitive advantage.
Want more Humans of HR? Check out Part 1 on Streamline the Recruitment Process and Part 3 on Community Engagement.