Work-Life Integration: Is There an Employee-Employer Expectation Gap?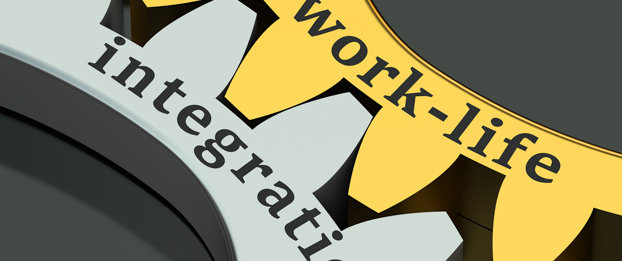 This story was updated on August 16, 2018.

According to Ernst & Young, 24 percent of U.S. employees said work-life integration is becoming more difficult to manage. Even in an era in which flex-time — designed to improve work-life balance — has increased, recent data from the Bureau of Labor and Statistics indicate that the average full-time employee is working more hours per week and working more on Saturdays and Sundays.
That problem is not exclusive to the U.S, either. According to the ADP Research Institute study The Evolution of Work: The Changing Nature of the Global Workforce, more than a quarter of working people in the U.K. report unhappiness with their work-life integration.
Those statistics come at a time when managing work and life means different things to different generations all over the world. For the "Sandwich Generation" — people in their 40s and 50s who are caring for both their parents and their children — it means trying to balance work and family while making enough money to support a growing household.
Many American adults in the Sandwich Generation are financially supporting both an aging parent and either a small or adult child. Across the globe, the burden on Asian families, to care for both parents and children is particularly substantial.
The Harvard Business Review cites studies that show the work-life integration issue has real consequences for both worker productivity and personal health. Basically, longer hours and increased stress are at odds with what workers value in their lives.
The Changing Workforce
Expectations in the global workforce are changing, and workers' expectations of freedom to do their work when, where and how they want are higher than ever before. For example, according to the Evolution of Work Study, 44 percent of workers in the Netherlands believe they should "define" their own work schedule and 95 percent of Chinese employees believe they will soon be able to do the majority of their work using a mobile device, beliefs that reflect a need to work in a different way in order to accommodate personal obligations. Leaders should be cognizant of the changing workforce and how work-life integration affects employee well-being, productivity and organizational performance.
Flexibility for Different Reasons
According to the Evolution of Work Study, 81 percent of employees view their ability to work from anywhere in the world positively, but the rationale for that positivity for different generations varies. The Sandwich Generation, in particular, is a group of employees seeking better work-life integration. Gail Hunt, president of the National Alliance for Caregiving, told Monster.com that the number one thing members of this generation want from employers is flexible time.
That presents both a retention and recruitment opportunity for leadership. By catering to varying needs, you can show your existing employees you understand that work-life balance comes in all shapes and sizes and highlights to potential, talented employees just how much you value your employees' happiness outside of work.
What to Do?
If Hunt is correct, that the number one thing members of the Sandwich Generation want from employers is flexible time, then organizations that offer this have the potential to attract highly skilled employees at the expense of those that do not. HCM leaders should prioritize the implementation of technology and policies that both enable flexible work time and show employees their voices are being heard.
An example of a technology can enable flex time and keep employees productive includes a mobile-friendly collaborative enterprise social network, such as Yammer and Oracle, that employees can use to communicate and collaborate on projects. As The Evolution of Work report suggests, the vast majority of global employees believe they can work from anywhere in the world, and many are already used to using social technologies to communicate and connect with people. Employers should find it easy to gain adoption of those technologies and keep up with the trend.
When it comes to creating policy around flex time, there is one simple solution to include: encourage employees to take all of their vacation. MarketWatch reports that employees in the United States take only half of their paid vacation time. Employees in China take even less, according to the same article.
As technology and employee preferences continue to blur the lines between where work actually gets done — at the workplace or remotely, during or outside of standard business hours — organizations must provide new ways to support productivity, while helping employees achieve balance, in this new norm.