Threat of Digital Upstarts: Meeting the Challenges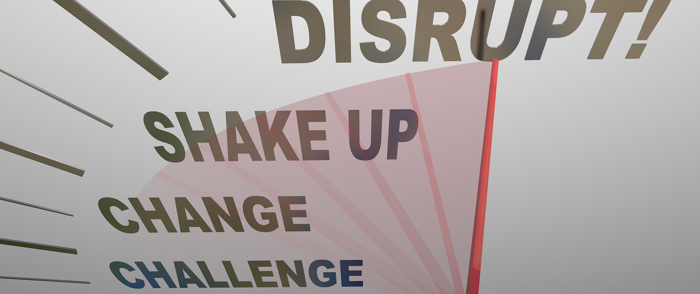 This article was updated on August 8, 2018.
The threat of digital upstarts is constant. Digital newcomers have been disrupting incumbent market leaders for quite a few years now. Consider Uber and the taxi industry, Airbnb and the hotel industry or Spotify and the music industry. Even digital giant Amazon began by disrupting book selling and now disrupts retail and cloud computing.
If you're being disrupted, you know how challenging it is to protect your bottom line, your market share and your talent. HR leaders must be major strategic partners in helping incumbents survive and thrive despite the ever-evolving threat of digital upstarts.
Disruption is happening in every industry — manufacturing, logistics, retail, banking, energy, health care and media, you name it — while the pace of change seems to be quickening. When you take a deeper look at those digital disruptors, more often than not you see technology employed to improve the customer experience, reduce costs, support mobility and enhance do-it-yourself, self-directed ways of doing business. These fast-moving technologies include big data, predictive analytics, cloud computing, mobile apps, robotics, automation, artificial intelligence and the Internet of Things.
But just because a threat is constant, doesn't mean that all hope is lost. There are a number of ways to shield your organization from the disruptors.
Stay on Your Toes and Keep an Eye on Customer Problems
With technology advancing so quickly, digital disruptors are seeking opportunities to shake up markets dominated by flat-footed incumbents who aren't adapting rapidly to customer needs. The more flat-footed you are, the more you invite digital disruption. To keep your enterprise on the balls of its feet, you should think holistically about solving the problems of your customers and organize your organization to be responsive.
Think of how Uber puts so much data on its platform, displaying customer ratings of its drivers and leveraging dynamic pricing to balance supply-and-demand for its service. It's innovative enough to change the entire customer experience by providing data to empower informed choice. Being agile requires a combination of talent, fresh ideas and the technical capability needed to drive a business transformation.
Move Progressively to Meet Customer Needs
Grinding out small improvements will no longer be enough to keep industry interlopers at bay. You need to think bigger about solving customer problems. General Electric, for instance, isn't waiting for disruption of its complex business. Rather, according to Capgemini Consulting, it's transforming itself from an industrial company into a "digital industrial" company. Disrupting yourself before others do it for you is a fight-fire-with-fire strategy worth entertaining. As an article in Forbes explains, "it's about discovering ways to use digital technology to make doing business with your company easier, more convenient, more engaging, and less expensive than the competition."
For example, as a report from consultants McKinsey & Company relates, a large retailer struggling against a digital disruptor created a multi-purpose R&D team to find opportunities to use technology to improve the customer experience in its stores. The team took a holistic approach to changing every aspect of store operations, from customer check-out to inventory control. The report concludes that those "innovations significantly raised customer satisfaction, while helping the retailer to enhance store operations" and "generated significant labor savings and increased employee satisfaction."
Develop More, and Different, Talent
Often, founders of digital disruptors come out of larger, incumbent companies. When you lose your best people, you may not just be catalyzing disruption but also diminishing your own capacity to respond to it.
By definition, disruptors think differently and challenge assumptions underpinning markets. So to fight them you need a disruption mindset in your own company, probing your weaknesses and anticipating evolving customer demands. Recruiting and engaging talent has never been more crucial, especially in areas like data analytics, cybersecurity and IT, so your human capital management is a critical component of these transformative efforts.
Digital disruption is happening faster than ever, so incumbents need to be agile with their technological capabilities and talent strategies to stay ahead of the curve. Building a culture of talent and innovation has never been more critical than now.