How Do You Pay Employees When Disaster Strikes?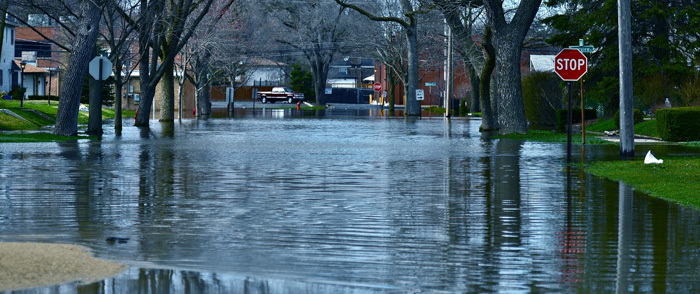 This article was updated on Oct. 4, 2018.

Employers face serious financial penalties if obligations to employees are overlooked
Unless you live in a hurricane, tornado or earthquake corridor, the phrase "natural disaster" may not worry you. But, according to Vox, 2017 was the costliest year to date for natural disasters in the United States. Businesses found themselves contending with physical damage and the loss of vital services like never before.
Whether nature inflicts its wrath on a corporate headquarters or a satellite office, emergency action plans need to ensure that the staff is prepared to manage through abrupt changes that can impact the work environment, safety provisions and schedules. For employers, many obligations are mandated by state and federal laws, with serious financial penalties if they're overlooked. Among these are the laws governing how employees will get paid during a natural disaster.
Before encountering a calamity, make sure you ask and can answer these nine key questions:
1. Did you establish procedures for communicating with employees regarding emergency closure and modified operations?
Your employees will look to you for assurance of their safety and protection of their livelihood. It's best to prepare these procedures before an emergency occurs.
2. What do you need to know about paying your workers?
The Fair Labor Standards Act (FLSA) requires employers to pay covered, nonexempt employees no less than the federal minimum wage for any hours actually worked. It also requires overtime at one-and-a-half times the regular rate of pay for all hours worked in excess of 40 in a week. There are additional rules that apply to workers who are exempt from overtime requirements, but, overall, pay requirements are not subject to waiver during natural disasters and subsequent recovery efforts.
3. What if your business is closed for a day or more because of a disaster? Do you have to pay salaried, exempt employees for these days?
That depends on how long your business was closed. According to the Department of Labor, if the employer closes the business due to inclement weather or other natural disasters for less than a full workweek, the employer must pay the employee's full salary even if:
The employer does not have a bona fide benefits plan.
The employee has no accrued benefits in the leave bank.
The employee has limited accrued leave benefits and reducing the accrued leave will result in a negative balance.
The employee has a negative balance in the accrued leave bank.
None of these scenarios preclude paying the employee. Private employers may, however, deduct from an exempt employee's leave bank for any days that the worksite was closed, whether for full-day or partial-day absences, as long as the employee receives payment equal to their guaranteed salary.
On the other hand, if the business is closed for a full workweek, the employer does not need to pay exempt employees for the week that the business was closed.
4. What about hourly, nonexempt employees? Do they have to be paid for those days?
No. The business is not obligated to pay hourly, nonexempt employees in that situation. Whether or not to apply vacation days would be a business policy matter.
5. Does your firm have to pay overtime for time worked in excess of 40 hours if the conditions require the hourly, nonexempt employees to remain on site?
Yes. They worked; you pay.
6. What if the organization remains open but an exempt employee is absent during this natural disaster? Can this be deducted?
Yes. An absence due to inclement weather is still an absence for personal reasons. Leave bank or salary deductions are permissible.
7. What if an employee reports to work but is sent home due to weather or a disaster? Do you have to pay that employee?
It depends. State laws vary, as do business policies. Again, you need to review what is required before you make a decision about this.
8. How do natural disasters affect the use of paid time off (PTO)?
Use of leave is governed largely by state law, so employers should check those laws first. But with exempt employees, employers may take deductions from an employee's leave bank for absence during a natural disaster as long as the employee receives his or her full salary. Note, however, that in states where PTO is considered a "wage," mandating its use even during natural disasters may be problematic. Employers should review their policies to determine what discretion they have in this regard.
9. Can you be held accountable for not adhering to the federal Worker Adjustment and Retraining Notification (WARN) Act?
Perhaps, depending on the circumstances. The WARN Act requires employers with more than 100 employees to provide 60 days' written notice before ordering a mass layoff or plant closing. The notification must go to affected nonunion employees, union representatives and certain government officials. Failing to provide appropriate notice can result in steep penalties. While exceptions have been made for "unforeseeable business circumstances" when the layoff or closing is caused by a natural disaster, an exception is not automatic. Plus, individual states often have mini-WARN laws that contain different and sometimes more-stringent requirements than the federal law.
Stay Prepared

Each employer is responsible for the safety and health of its workers and for providing a safe and healthy workplace, which includes protecting workers from the anticipated hazards associated with response and recovery operations that they conduct.
For additional information on workers' rights, employer responsibilities and other services provided under the Occupational Safety and Health Act (OSHA), visit the U.S. Department of Labor's OSHA Employers Page, Workers Page and Publications websites.
Don't let a natural disaster devastate your business. You can retain your employees' trust and build an even better workforce during a time of crisis by knowing the applicable regulations and how they might impact your staff.