How to Spark Interest and Adoption of Benefits by Your Multigenerational Workforce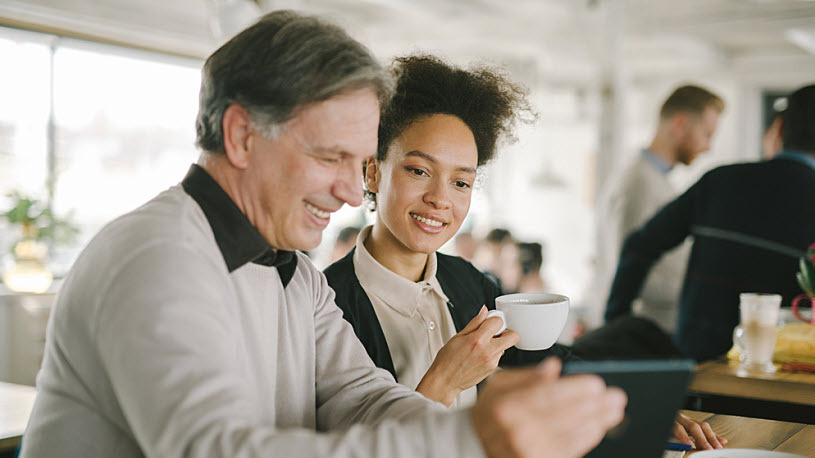 By Mary Schafer, VP, Strategic Advisory Services, ADP and Maggie Novo-Chavarry, Director of Client Experience, ADP
From "The Great Resignation" and "Quiet quitting" to returning to work and "The Big Stay," there are many terms that have helped describe the evolving workplace and the impact of the pandemic over the past few years on talent's shifting priorities and employers' efforts to manage their workforce.
Now, more than ever, employers are looking for ways to attract and retain top talent. Competitive and creative benefits remain a strong differentiator for attraction and retention, and communicating those benefits is key. Leaders should consider their strategies and how to best communicate them to support their organizations now – and in the future.
Employers are paying closer attention to the overall well-being of their people, including offering additional education and resources for workers to take care of their physical, emotional, and financial health. It's no surprise that the importance of health and retirement plans is at the top of the list for many employers to help attract and retain workers.
Generations in the workplace: The fab four
We've all read the myriad of articles about the four main generations in the workforce – Boomers, Generation X, Millennials, and now Generation Z is starting to enter the workforce. Smart employers are evaluating what their workforce may need in terms of benefits based on their unique stages of life.
For example, Gen Z and Millennials may be focused on student loan repayment and financial wellness programs, while Gen X is often referred to as the "sandwich generation," potentially at a point in life where they are taking care of children and perhaps aging parents concurrently. The key takeaway is to think about offering a variety of benefits and how it can help your workforce as they navigate through different life events and stages.
Meeting employee benefits needs based on their unique stages of life
Gen Z:
Early entry to workforce either part-time or full-time
College or technical school
Graduation
Debt, minimize expenses
Rely on parents for healthcare needs
Millennials:
College, post-grad
Student loan debt, tuition reimbursement
Career development
Fitness, focus on financial well-being, mental health
Marriage, family planning
Childcare expenses, home/school/work balance
Own healthcare, learning to navigate benefits
Gen X:
Career advancement, mobility
Health screenings, managing chronic conditions
Financial assistance, increased savings
College planning
Elder care support
Medical expenses
Retirement planning
"Sandwich" generation
Boomers:
Financial, retirement readiness
Catch-up contributions
Estate planning
Health and chronic care concerns
Medical expenses
Extended families
Volunteering, staying active
The benefits landscape and top trends
Before we jump into how best to communicate to your workforce about benefits, let's consider the current landscape and trends in play as they will impact how and what to communicate to your key stakeholders.
Work-life balance (also known as work-life choices)

Workers often struggle to strike a balance between work/life or work/life choices, which can lead to stress and burnout. To help support their workers, employers might consider the following:

Motivating and engaging employees by helping to create a culture that fosters work-life balance.
Considering remote work or hybrid arrangements.
Evaluating potential flexible work arrangements if workers are required to be on a job site (i.e., manufacturing, transportation, healthcare, hospitality).
Affordability

If your healthcare costs are expected to increase, there will be a balancing act between the overall budget and how to alleviate financial stress for employees. Employers can:

Include a focus on lower wage earners as they may experience barriers to accessing care.
Consider their health plan mix, contributions, and whether they should offer a low-cost option with copays and a lower deductible.
Offer higher HSA contributions if their lowest cost health plan is a High Deductible Health Plan (HDHP qualifying for HSA) to help with any upfront medical costs.
Consider making telemedicine (virtual visits with a provider) available, which can be more affordable for employees and can help drive down employer healthcare costs.
Inclusivity and wellbeing

Whether your organization has a well-developed diversity, equity, and inclusion (DE&I) strategy, or is just getting started, supporting a diverse workforce with intentional benefit designs and programs to meet their needs is critical. Employers might consider:

Determine what gaps they may have in coverage that may impact a segment(s) of their workforce, which could be benefits for employees who are trying to start or grow their family, whether they need the help of fertility treatments, surrogacy or have decided on adoption, for example.
Leverage data to better understand if there are communities within their population where accessing care may be difficult or disabilities that might require additional support and resources.
Find ways to support the workforce as it relates to mental health and emotional well-being. For example, consider offering Employee Assistance Programs (EAPs) with additional no-cost visits, training managers to nourish a culture of empathy and openness, having regular check-ins with employees, and communicating how to access resources available.
Financial health

Financial stress can arise at any stage of life, and it can impact both our personal and work environments. Employers should consider the following:

Providing resources that can help employees with things like financial education, budget planning, counseling services, debt consolidation, student loan repayments, or retirement planning.
Offering earned wage access can empower employees with the ability to access their wages when they need it. According to ADP's "Earned Wage Access: Tapping into the Potential of Flexible Pay for Today's World of Work" study, 59% of millennials would give priority to a job offer with an employer that offers earned wage access.
And finally, retirement plans continue to be a key reason why employees join an organization. According to WTW's Global Benefits Attitude Survey (2022), 47% of those surveyed said it's important in deciding to join a company, and it's why 60% of employees decide to stay.
Communicating with your multigenerational workforce
As you consider how best to engage your entire workforce and how to develop a robust communications approach – keep these communications and learning preferences in mind:
People tend to learn and retain information in different ways:

Visually: learners respond to images and graphics.
Auditorily: learners prefer verbal presentations.
Kinesthetically: learners prefer a physical, hands-on approach.
A best practice is to have a multi-pronged, multi-touch communications approach – it takes multiple times for a message to be heard, understood, and acted on. Here are leading practices to keep in mind as you build and deploy your benefits communications strategy:
Engage managers early: they can serve as change champions and help distribute important information.
Avoid assumptions: don't make guesses on how employees like to receive communications simply based on their generation.
Communicate often: create a multi-touch, multi-pronged approach, and enable two-way communications so that employees can ask questions and/or provide feedback. See below for ideas.

Electronic: Blogs, mobile, webinars, portals, social collaboration tools, video, email, blogs.
Print: Posters, fliers, postcards, infographics, table tents, home mailers.
Interactions: Meetings, FAQ calls, change champions, manager huddles, pre-shift meetings/huddles, lunch and learns.

Be clear and concise: make content relevant, keep it short and jargon-free (avoid acronyms if possible – CDHP, HSA, FSA, etc.) and remember that wording that makes sense to practitioners (i.e., co-pay, life event, deductible, etc.) may not be familiar to employees.
Use visuals and QR codes: get creative with imagery, infographics, and messaging to grab attention and drive action. Tap into QR codes for employees to scan and access additional information.
Get creative: tap into social collaboration tools like Webex, Zoom, Slack, etc., and consider utilizing short videos, employee stories, stats and milestones to communicate your message.
Provide listening channels: offer opportunities for feedback, face-to-face (if possible) or via surveys or manager meetings.
Involve everyone: bring different people into the conversation for planning and collaboration.
Consider all stakeholders: don't forget about workers who may not have access to a computer, retirees who may be eligible for benefits, new hires, unions, spouses/partners, and families at home who may be involved in the benefits decision making process.
It's critical in today's environment to consider the needs of a multi-generational workforce. Employers need to consider a broad and highly adaptable benefits program, as it can play a key role in attracting and retaining talent. And just as importantly, having a robust and year-round communications strategy can help drive awareness and adoption and ultimately support employee satisfaction.
Learn more
Register and replay the on-demand webcast: Rethinking Benefits and the Employee Experience: How to Meet the Needs of Your Diverse Workforce
ADP can help
If your organization has 49 or fewer benefits-eligible employees, visit insurance.adp.com to learn about easier ways to manage your group health benefits.
If your organization has 50 or more benefits-eligible employees, click here to learn about our benefits administration offering.