The Essential HR Analytics Guidebook
The more workforce data you have, the better— right? Maybe, but raw data alone simply isn't enough. To truly unlock the business potential of those numbers, you need to turn them into meaningful insights, and then into actionable plans. Not sure how to begin that journey? Look no further than The Workforce Analytics Workbook. Inside, you'll find out how to turn people data into business insights with an easy-to-follow, step-by-step guide—plus you'll get all the HR analytics background information and educational links you'll need to get started. You're just one download away from learning how to make your HR data work harder for your business.
Thank You!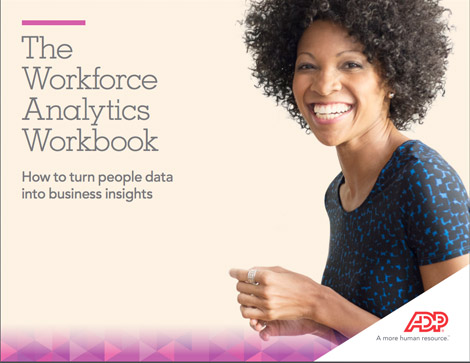 The guidebook Workforce Analytics Workbook is yours.
Have questions about your midsized business?
An ADP midsized business expert is standing by to help give you the guidance you need.
Call 800-CALL-ADP or visit ADP.com.