The Stress-Free Guide to Avoiding Payroll Mistakes
Keeping up with payroll-related tasks can seem almost impossible. Fortunately, it gets easier when you have some guidance and know exactly what to look out for. Enter our easy, step-by-step guidebook, 5 Steps to Help Prevent Common Mistakes. Inside you'll learn what the five most common payroll mistakes are and how to help avoid them - plus you'll find three quick tips to help you stay on track. Peace of mind is just one click away.
Thank You!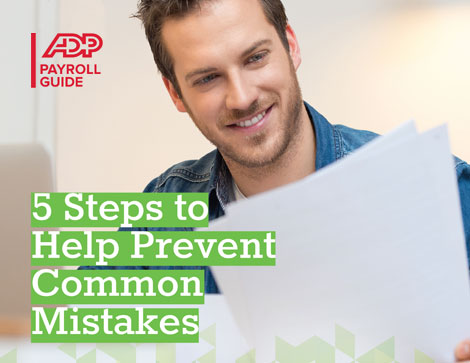 The 5 Steps to Help Prevent Common Mistakes guidebook is yours.
Have questions about your small business?
An ADP small business expert is standing by to help give you the guidance you need.
Call 855-705-5553 or visit ADP.com.