The Midsized Business Owners Guide to Navigating Change
Dramatic change seems to be the one certain constant in today's world. Faced with global political upheavals, a shrinking talent pool, and evolving technologies, how can midsized business owners adapt, and even thrive? Look no further than our guidebook, Midsized Businesses: Poised to Lose Balance in a Time of Uncertainty. Inside, you'll find compelling research, charts, and statistics to give you an easy-to-digest snapshot of what's happening. Then, we'll help you understand how to turn the inevitable uncertainty of change into opportunities for your midsized business. Your future-ready plan is just one download away.
Thank You!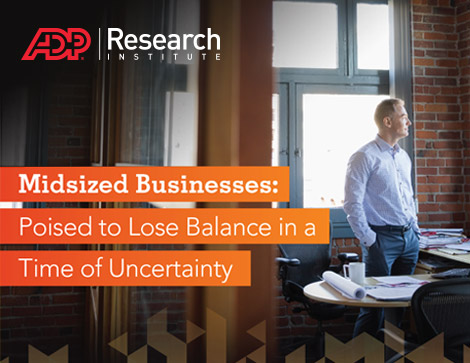 The Midsized Businesses: Poised to Lose Balance in Time of Uncertainty
guidebook is yours.
Have questions about your midsized business?
An ADP midsized business expert is standing by to help give you the guidance you need.
Call 800-CALL-ADP or visit ADP.com.