The Must-Read Guide to Better Talent Management
Want to increase employee engagement but wish you had more information about how your employees really feel? When it comes to attracting and retaining talent, it's tough to know exactly where to invest your resources. Thankfully, our guidebook, Fixing the Talent Management Disconnect: Employer Perception vs. Employee Reality in the U.S. Midsized Market, is here to make it easier. Inside, we'll walk you through the key talent management phases of recruitment, development, and engagement— and you'll find some revealing facts and stats along the way. You're just one download away from smarter hiring and happier employees.
Thank You!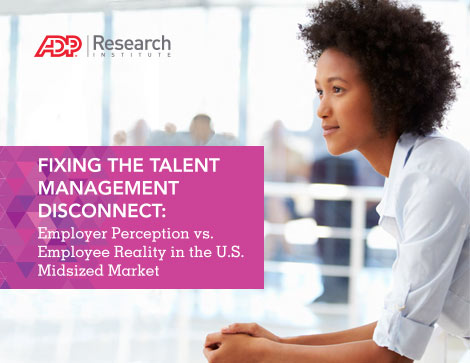 The Fixing the Talent Management Disconnect guidebook is yours.
Have questions about your midsized business?
An ADP midsized business expert is standing by to help give you the guidance you need.
Call 800-CALL-ADP or visit ADP.com.