Survey of Midsized Businesses Reveals "Perfect Storm" of HR Management Challenges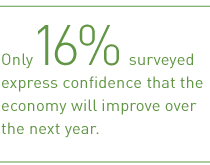 A sluggish economic recovery, political gridlock, and never-ending regulatory changes continue to create an uncertain business climate for U.S. companies. While businesses of all sizes are working to regain their footing and build a foundation for growth, midsized businesses face unique struggles since they have neither the agility of small firms and nor the resources of larger enterprises. So what are the top concerns and challenges of midsized business leaders and how are they responding? To find out, ADP Research Institute®, a specialized group within ADP, conducted an online survey of more than 1,000 owners and executives at companies with 50-999 employees in May 2013. The survey results reveal that midsized businesses are facing a "perfect storm" as economic concerns, Health Care Reform, and stiff competition for top talent converge to present key human resource (HR) management challenges.
Hiring Plans Reflect a Cautious Outlook on Economic Recovery
The U.S. economy's slow recovery from the 2008 financial crisis has created a mood of "defensive pessimism" among midsized business leaders. Only 16% of survey respondents express confidence that the economy will improve over the next year. Given this gloomy outlook, it's not surprising that midsized businesses are trimming planned head count increases compared to 2012. The number of smaller midsized companies planning to add new employees has decreased sharply in the past year, while the hiring expectations of larger midsized companies remain largely unchanged from 2012. On a brighter note, companies that increased head count in 2012 overwhelmingly plan to continue growing; nearly two-thirds anticipate adding employees in the coming year. This indicates pockets of robust business activity even in the absence of broad-based economic recovery.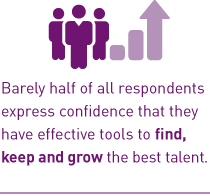 Growing Healthcare Costs Could Impact Talent Acquisition and Retention
The major factor influencing labor costs—and therefore, hiring—is cost of providing healthcare benefits. Given this reality, the U.S. Supreme Court's decision to uphold most of the constitutionality of the Affordable Care Act (ACA) predictably propelled ACA legislation and the cost of providing healthcare benefits to the top of the list of midsized business leaders' concerns in 2013. These same issues ranked highest when business leaders were asked to rate their level of concern. The ACA appears to be bringing a longstanding business challenge to the forefront: how to control the employer's healthcare coverage costs while still providing attractive benefits packages for employees. Shaping an ACA response that can satisfy these competing demands will help determine a midsized business's ability to cost-effectively attract and retain top talent.
Many Midsized Companies Need to Increase Focus on Core Human Capital Management
When it comes to Human Capital Management (HCM) issues, most respondents to the 2013 survey express a fair degree of confidence. For example, 66% of respondents are confident that their organization has the tools needed to effectively manage the workforce and 60% are confident in their ability to generate the workforce data and analytics needed to drive corporate strategy and goals. Barely half of all respondents, however, express confidence that their organization has effective tools to find, keep and grow the best talent—the core HCM category. This finding suggests that midsized businesses need to constantly review HCM policies and practices to keep from falling behind in the battle to hire and keep top talent.
*A complete list of sources and citations can be found in the full report.
About This Report: This report is based on findings from the ADP Business Owner Study, an online survey of 1012 business owners , C-suite executives and senior-level executives in U.S. midsized organizations with 50-999 employees conducted in May 2013 by the ADP Research Institute®, a specialized group within ADP. This report reveals midsized business leaders' perceptions and experiences with regard to the economy, their top business concerns, and their responses to these challenges.
Go Deeper