Study Reveals a Compelling Wage Garnishment Profile
Wage garnishment – the legal recovery of debt through the seizure of employee pay – is increasing in the United States. Since 2005, garnishments are up 121% in Phoenix; 55% in Atlanta since 2004; and 30% in Cleveland, between 2008 and 2009. The increase apparently stems from a growing population of debtors, and creditors who are more likely to sue to recover money they have lent and is overdue. To supply employers with accurate, detailed information to help them understand and react to the challenges of debt recovery, the ADP Research Institute®, a specialized group within ADP®, studied 13 million active employees, ages 16 and older in 2013. The study delves into aggregated, anonymous payroll data, highlighting a U.S. wage garnishment profile that is revealed across multiple categories, ranging from industries to size of business. The garnishment rate represents the proportion of employees having their wages garnished in that particular category.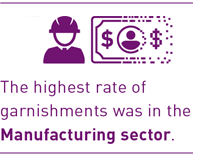 Garnishment Rates Vary by Industry
The study found that 48% of companies in the Manufacturing sector had at least one or more employees with their wages garnished, followed closely by Transportation & Utilities –  where more employees carried child-support garnishment compared to other industries. The three industry sectors with the least number of employees having garnishment were Financial Activities, Professional & Business Services, and Education & Health Services. This disparity indicates a possible link between garnishment and blue- and white-collar categories.
Genders Are Separated by One Significant Garnishment Issue
Across nearly all categories, the same proportion of women and men experienced wage garnishments. However, the one category in which there is a sharp disparity is child-support garnishment. The percentage of men having garnishment was six times higher than women. One conclusion that can be drawn is that more women than men have physical custody of the children and men are more likely to pay child-support.
Some Geographic Regions Have Higher Garnishment Rates than Others
The Midwest has the highest number of employees with garnished wages and tops all U.S. regions in the child-support and miscellaneous garnishment categories. The South is second highest, overall, and leads all geographic sections for bankruptcy-related garnishments. The Northeast section has the lowest rates, across the board. One reason for increased garnishments in the Midwest and South might be the type of industry that is most prevalent in those regions. For example, they are home to a heavy concentration of manufacturing operations – a sector that, according to the study, has higher number of employees with garnishment than businesses in the service sector.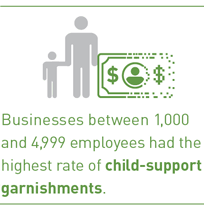 Garnishment Rates Are Higher for Mid-Range and Mid-Career Workers
Study results also show higher garnishment rates in most categories for workers whose earnings are in the mid-range ($25,000 - $60,000). One explanation is that workers (ages 25 to 44), whose level of compensation falls within the mid-range, tend to face a variety of life issues that could lead to wage garnishment. These include high levels of debt, child-rearing responsibilities, and divorce. For example, garnishment rates for child support were highest among those earning between $40,000 and $60,000. 
There Is More Wage Garnishment Activity at Larger Companies
According to study results, wage garnishment also increased by size of company – across all categories. Businesses with more than 5,000 employees had the highest tax levy, bankruptcy, and miscellaneous garnishment rates. Those with head counts ranging between 1,000 and 4,999 employees had the highest rate of child-support garnishments. Although the reasons behind these results are not clear, many large companies – especially those with manufacturing activities – may have a need to employ a large population of blue-collar and other employees that are mid-range earners and are experiencing debt, childcare, and divorce issues.
*A complete list of sources and citations can be found in the full report.
About This Report: This report is based on aggregated, anonymous payroll data from 2013. The dataset was comprised of approximately 13 million active employees, ages 16 and older. This research evaluated the dataset along multiple dimensions, including (age and gender) demographic profiles, region and state geographic profiles, industry type, and wage levels.
The study provides sample information from a specified timeframe and is not intended to represent an annual measure of garnishment rates.
Tags: Payroll Human Resources