Is HR Prepared to Support Global Business Growth Priorities?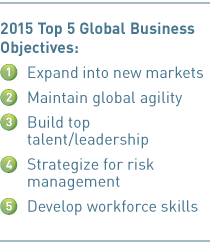 Business growth through market expansion will be the primary business strategy of multinational corporations. 63% of executives say the number of employees outside of their company headquarters will increase in the next year or so. That is up 4% from 2013, reflecting a consistent 3-year trend and supporting other stated goals of realizing growth through new markets. At the same time, there are multiple disconnects in this same group of organizations where Human Capital Management (HCM) capabilities are not aligned with the stated goals. If these and other critical infrastructure issues remain unaddressed, success of their business strategies could be undermined. The ADP Research Institute®, a specialized group within ADP®, surveyed 725 HR decision-makers in global multinational organizations with 5,000 or more employees to provide insight. Helping HR and corporate executives to better understand the correlation between corporate goals and HCM, the study explores the value of global HCM components as well as the plans and needs of global executives.
Plans for Growing are Growing
Whether entering new regions or committing to a stronger footprint in existing global markets, the study found that as a business objective, expansion steadily gained priority in both 2014 and again in 2015. Over the past three years, corporate objectives have stayed the same, with the notable exception of growing by entering new markets having increased in priority. The trend is critical for HR leaders in all size companies.
HR will face pressures to support the decision process, whether predicting workforce impacts or estimating workforce investment costs.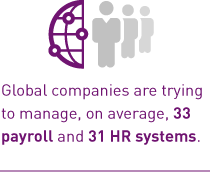 Which HCM elements will have the most impact?
49% of the survey respondents confirm that talent management continues to be the overwhelming challenge global companies face in achieving their objectives. Although executives considered the challenges of managing cultural differences, acquisition, and training to all have a high impact on successful outcomes, performance management had the greatest trend increase from previous years. HR executives cited talent acquisition and applicant tracking as the HCM elements with the most impact on global business objectives.
Desire for System Unification
More than two-thirds of the HR leaders in this study want more unified systems. Global companies now try to manage, on average, 33 payroll and 31 HR systems. That number has grown 40% compared to the previous year. The numbers run even higher for multinational organizations with headquarters in emerging markets such as Asia-Pacific and Latin America. Having workforce data in one place globally takes Human Capital Management to entirely new levels by increasing efficiency and effectiveness, as well as by enabling the analytics and predictive modeling capabilities HR will need in this competitive environment.
The "Big Data" Need for Unification
While the number of systems grow and complicate HCM efforts exponentially so does the amount and types of data being maintained. The concept of "big" in data applies whenever the volume overwhelms the capacity to manage it. Most organizations are there already considering that few, if any, of their numerous systems are designed to do analytics or even to integrate with other systems. Transactional automation was the focus and about all that can be expected from them.
Supporting overall business initiatives has to be the focus of any viable HR organization. Prioritizing areas of greatest impact to achieving those goals is smart. But a weak, inefficient infrastructure will prevent the very agility, analytics and access that HR will need to execute any of those priorities with any real effect.
*A complete list of sources and citations can be found in the full report.
About This Report: The ADP Research Institute® conducted its third annual Global Human Capital Management (HCM) Decision-Makers Survey in December 2014 among 725 HR decision-makers in global multinational organizations with 5,000 or more employees worldwide. The study universe included senior leaders across Asia Pacific, Europe and the Americas. A statistically projectable sample of respondents was interviewed, split between four groups by size: global MNC's with 5,000 to 9,999; 10,000 to 24,999; 25,000 to 74,999, and 75,000+ total employees worldwide. The resulting data achieved statistical reliability at the 95% confidence level both overall and in each of the size groups and regions.
Tags: Human Resources Talent Management
Go Deeper