Integrated HCM Data Is Key to Comprehensive ACA Compliance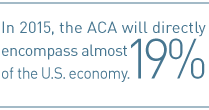 The Affordable Care Act (ACA) is one of the most significant pieces of U.S. legislation passed since the inception of Social Security in 1935. It impacts every employer, every person legally residing in the United States, every health care provider, every insurance company selling health care insurance, every pharmaceutical company, and every medical device manufacturer. In 2015, the ACA will directly encompass almost 19% of the U.S. economy.1
To help employers gain insight into how the ACA is affecting U.S. employers and their ability to comply with the ACA law, the ADP Research Institute® (ADP RI), a specialized group within ADP®, surveyed more than 800 heads of HR and senior HR/Benefits executives and managers in midsized (50-999 employees) and large organizations (1,000 or more employees). Study results not only revealed that many employers are not prepared to fully administer all of the ACA's compliance requirements, but also indicated a core reason for the lack of preparedness – insufficient integration of key data.
Accurate Data Drives Your ACA Compliance Engine
Complying with the ACA requires the focus of an organization's leadership team and access to accurate integrated data that feeds the reports and notices that are the responsibility of employers. Failure to comply with ACA requirements – especially those related to Shared Responsibility – could result in substantial nondeductible tax penalties that can range from thousands to millions of dollars.
Data integration is a key element in ACA compliance, which requires data from at least four disparate Human Capital Management (HCM) systems – Payroll, Time and Labor Management (TLM), Benefits, and Human Resources (HR). Incorrect data will likely result in a barrage of correspondence and complaints, as well as put an employer on a slippery slope toward nondeductible tax penalties.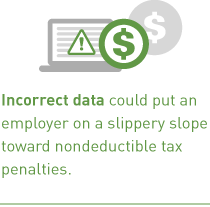 The ADP RI study indicates that employers are falling short of the mark concerning ACA compliance in three key areas that include the Health Insurance Marketplace/Exchange Notice Management, annual health care reporting to the government, and penalty management. Specifically, fewer than four out of 10 midsized and large employers are prepared to carry out their Marketplace/Exchange Notice responsibilities in a timely manner. In addition, less than half of all organizations surveyed are confident in their penalty management processes.
Data Helps Employers Determine Employee Eligibility
One important insight from the ADP RI study is a possible link between unpreparedness and an inability to determine with accuracy employees' (and dependents') eligibility for mandatory, company-sponsored health care benefits. Many employers may not have a totally accurate count of unpaid leave hours attributable to the Family and Medical Leave Act (FMLA), Uniformed Services Employment and Reemployment Rights Act (USERRA), and jury duty – all three of which must be included in determining full-time status according to the ACA. From an overall plan perspective, employers should also conduct an analysis to determine which of their plans will trigger a 40% nondeductible penalty under the ACA Excise Tax. Employers are in a better position to understand with greater clarity and manage with greater accuracy these – among other – ACA requirements with access to the right integrated data.
A Good Effort Is Not Compliance
Study results show many employers are still struggling to comply with the ACA. Like any other complex business compliance challenge, making a good effort to comply is very different from actual compliance. Deadlines will arrive. Data will be needed to satisfy Notice appeals and potential audits. Reports must be filed. Through it all, employers need to remain focused on their compliance obligations and the best avenues to achieve them. Leveraging the coordinated expertise of multiple functions within an organization should help – so might the added expertise of a third-party provider with a comprehensive ACA managed solution with a strong service component. Whichever path you decide to take, integrated data is an indispensable companion.
1 Sources: Centers for Medicare and Medicaid Services, Office of the Actuary, National Health Statistics Group, U.S. Department of Commerce, Bureau of Economic Analysis and U.S. Bureau of the census, 1960-2012.
About this Report: The ADP Research Institute conducted the 2014 ACA Study in August and September 2014 and included input from 806 HR/Benefits decision makers in U.S. enterprises. The study universe was comprised of a representative sample of 403 heads of HR, senior HR/Benefits managers and executives in midsized organizations (50-999 employees) and 403 in large ones (1,000 or more employees) who influence decisions regarding their organization's employee benefits, policies, and systems. The resulting data achieved statistical reliability at the 95% confidence level in each segment.
Tags: Benefits Administration