Infographic: Top Concerns of Business Leaders in the Post-2008 Economy
Over the past several years, media headlines and political debate have focused on the challenges facing businesses in the post-2008 economy and the best path to sustainable recovery. But there has been little discussion about the unique effects of these uncertain economic times on midsized businesses. Read about findings from a survey of 507 business owners and executives in midsized companies (50-999 employees) to gain insight into their perceptions of the state of the economy, their top business concerns, and their key challenges both today and moving forward.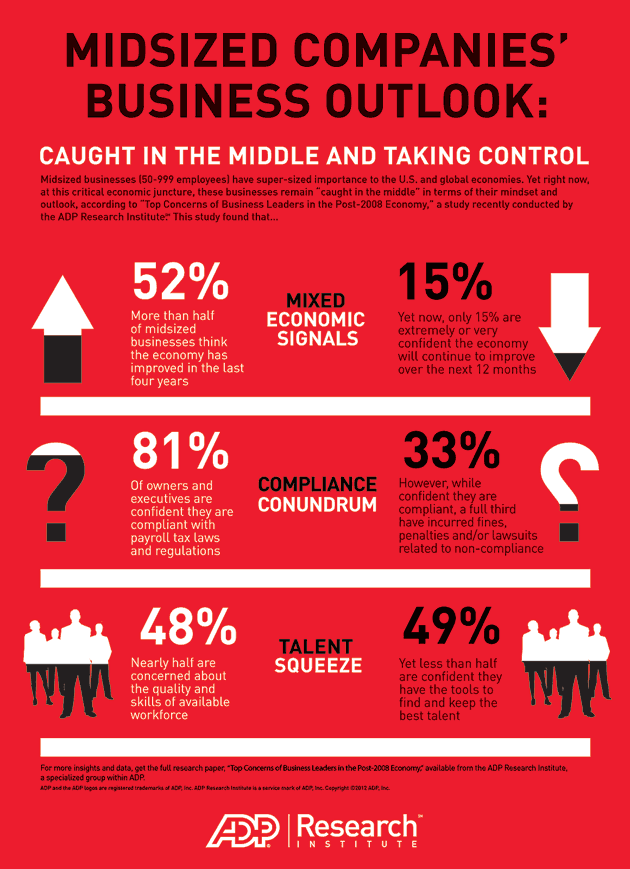 About this Report: This report is based on findings from the ADP Business Owner Study, an online survey of 507 business owners, C-suite executives, and senior level executives in U.S. midsized companies conducted in May 2012 by the ADP Research Institute®, a specialized group within ADP. This report reveals midsized business leaders' perceptions about the economy, their to p business concerns, and their anticipated responses to these challenges.
Tags: