How Age, Gender, and Income Are Influencing Retirement Savings Rates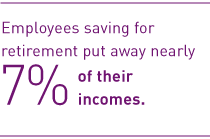 Can your age, gender, and level of compensation influence when and how much you are saving for your retirement years?
The ADP Research Institute® (ADP RI), a specialized group within ADP®, used aggregated, anonymous 2014 payroll transactional data of approximately 10 million employees between the ages of 20 and 69 at about 161,000 organizations to provide insight into the U.S. retirement savings landscape, including savings behaviors and trends.
This is the second year of the ADP RI survey and interesting savings patterns are beginning to emerge.
Can you hear the retirement clock ticking?
Data reveals that your proximity to retirement indeed has a profound effect on your retirement savings rate. ADP RI research showed that employees saving for retirement put away nearly 7% of their income. However, as employees approached retirement age, they focused much more on planning for their post-working years and saving at a higher rate.
As an example, Millennial generation employees (ages 20-34) only saved about 4.6% of their income, while a majority of workers from the Baby Boomer generation (age 51 and over) were earmarking 8.5% of their income for an employer-sponsored retirement plan. Among workers reaching retirement age (which the study assumed to be 61 years of age) in the next five years, 65.5% saved at a rate averaging 8.6%. The highest average savings rate of all employees, at 9%, was among those planning to retire in 2015.
Which gender is saving more?
When it comes to retirement savings, one gender is accumulating money at a higher rate. The ADP RI study shows women had a higher rate of retirement savings than men among all compensation levels. In most compensation categories, not only were more females saving for retirement than males, they were also saving at slightly higher rates. The largest gap between men and women was in the $35K - $50K compensation range, with approximately six out of ten women saving for retirement compared to slightly over half of men.
Although the average savings rate between men and women is quite similar, a higher proportion of women are working for lower levels of compensation or in positions that may not be eligible for company-sponsored retirement plans. The higher savings rate for women appears to reflect an attempt to close the retirement savings gap when they start or return to full-time employment and gain more access to retirement savings opportunities.
Is higher income translating into higher savings rates?
The ADP RI study revealed that higher income appears to be a pathway to greater savings, with dramatic differences among lower- and higher-income workers. Among those earning more than $100,000, the proportion of those saving was nearly 82%, while only 36% of workers in the $20K - $35K wage group were saving for retirement.
Compensation levels also matter more than employee size, when it comes to higher retirement savings rates. According to the study, a greater proportion of higher-income workers are saving at a higher rate.
Is technology helping small employers to offer retirement benefits?
New technology appears to be leveling the playing field between large and small employers by helping to reduce administrative burdens, compliance risks, and overall retirement plan costs for company-sponsored plans. Overcoming these hurdles is enabling companies to increasingly include retirement plans among their benefits offerings.
As a result, more companies – regardless of size – can compete more effectively to attract the best talent, retain their most valuable employees, build employee engagement and productivity, sustain their loyalty, and maintain a healthy workforce turnover level.
In fact, the ADP RI study indicates that smaller is sometimes better when it comes to saving for retirement. Even though more employees at larger organizations are saving for retirement, those at smaller firms are saving at higher rates. The average savings rate in organizations with fewer than 20 employees was higher than 7% in the majority of industries examined.
Finally, the trends and disparities in retirement savings behaviors identified in the study indicate opportunities for employers that seek to differentiate themselves. At stake is a chance to demonstrate their commitment to their employees' financial security, as the organization creates an important competitive advantage in the marketplace. As research shows, most employees will choose to save for retirement. Without the support of their employers, that opportunity is likely to remain an unanswered challenge.
Read the full white paper, "Retirement Savings Trends: How Employers Can Extend Coverage and Simplify the Retirement Readiness Process," to gain comprehensive insight into the latest trends concerning U.S. retirement benefits offerings and savings behaviors.
About This Report: The ADP Research Institute® used aggregated, anonymous payroll transactional data from 2014. The dataset included approximately 10 million employees between the ages of 20 and 69 with total annual compensation of $20,000 and up from about 161,000 organizations. The research evaluated the dataset along several dimensions, including demographic profile (age and gender), compensation level, and the industry of employment.
The study, now in its second year, also analyzed the landscape of the employers regarding providing retirement benefits through employment. The retirement savings included contributions made with before- and after-tax dollars (not including matching contributions from employers) to the following types of deferred compensation plans: 403(b) and Roth 403(b), 401(k) and Roth 401(k), 457 and Roth 457, SIMPLE IRA, and 408(k).