Health Care Reform May Change the Cost and Composition of the Part-Time Workforce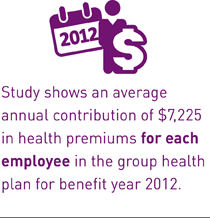 There's no question that the Affordable Care Act (ACA) will impact how employers handle employee benefits. But the way employers respond to this law is what will ultimately determine the scope of its impact, especially in terms of health and benefits costs. The ADP Research Institute, a specialized group within ADP, recently conducted its inaugural study of health benefits on approximately 300 U.S. -based client organizations, each with more than 1,000 employees. Representing multiple industries across all 50 states, the study's key demographic data includes employee full-time/part-time status, marital status, dependent status, and eligibility for benefits. Because the ACA may result in re-classification of some part-time employees as full-time, the study data and insights may help employers as they take action to help manage the ACA's effect on their financial and human capital resources.
Part-Time Employees Represent a Small but Significant Percentage of the Large Employer Workforce
ADP Research Institute's inaugural health benefits study revealed that out of a total universe of 919,000 employees, 77% of the population was reported as working full time by their employer. And, while 23% of all employee positions were classified as part-time, only 15% were eligible for benefits. Furthermore, when those part-time employees were offered health benefits, only 53% elected coverage versus 77% of full-time employees. The lower take rate for part-time employees may be the result of: 1) the cost of health benefits relative to personal income; 2) access to health coverage through a working spouse or parent; and/or 3) the ACA rule which now permits an adult child to remain on a parent's group health plan until age 26.
Percentage of Part-time Employees Eligible for Health Care Benefits May Increase Starting in 2014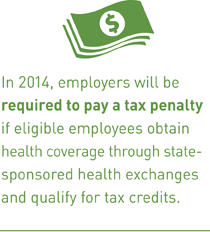 According to the Employer Shared Responsibility provision of the ACA, any employee credited with service equal to at least 30 hours per week or 130 hours per month must be offered employer-sponsored health coverage that meets certain requirements or the employer may face a penalty. Potentially, this provision could create a spike in employees currently classified as part-time becoming eligible for benefits starting in 2014.
Monitoring Part-Time Eligibility for Health Care Benefits May Be Critical as ACA Provisions Take Effect
The part-time eligibility percentage remains a critical question because even small changes to this number can have a material impact on an employer's benefits costs. In 2012, the average employer within the study contributed roughly $7,225 per year in health premiums for each employee who enrolled in the employer's group health plans. And starting in 2014, an employer would be required to pay a penalty if any benefits-eligible employee is not offered qualifying, affordable coverage and instead obtains subsidized health coverage through a health exchange and qualifies for tax credits. For these reasons, employers are advised to manage and monitor part-time eligibility more closely moving forward.
Single Part-Time Employees Less Likely than Single Full-Time Employees to Elect Health Coverage
Study findings revealed that among full-time employees, the proportion of single employees eligible for health benefits who actually elect coverage remains statistically identical with married and other employee categories. Among part-time employees, however, purchasing behavior is significantly different. Single employees make up 52% of the part-time associates who are eligible for benefits. Only 46% of those elect health coverage. While these eligible part-time employees are a smaller segment of the total population, the difference is still worth noting.
*A complete list of sources and citations can be found in the full report.
About This Report: Conducted by ADP Research Institute, a specialized group within ADP, this study is based on 2012 actual, aggregated and anonymous employee-level data from approximately 300 ADP health and benefits clients. All states and major industries are covered, as well as employee gender, age, and marital status. Each of the companies in the study has 1,000 or more employees, including both full-time and part-time workers. Due to the small dataset population of union employees, only non-union employees are considered in this analysis.