Global Studies Reveal Disconnect Between Employees and HR on Key HCM Issues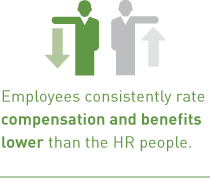 Even after twenty years of HR-specific technological innovation, corporations and their HR departments seem to be as disconnected from employees as ever on critical Human Capital Management (HCM) issues. Recent global studies by the ADP Research Institute® measured perceptions of employees, HR leaders and other senior leadership on key HCM metrics and found a wide disparity in opinions of various HR functions including benefits administration, talent management, and responsiveness to HR-related inquiries. This persistent division between HR and employees on so many issues vital to the successful management of human capital suggests that work remains to be done to optimize overall employee engagement.
Employees Are Less Satisfied with Employer-Sponsored Benefits than HR Thinks They Are
Employers invest significant budget and resources in employee benefits and their administration. As a result, there is the expectation that these benefits provide value to both the employee and employer. However, our study findings indicate that employees consistently rate compensation and benefits lower than the HR people who typically provide those benefits. Until the recent economic downturn, benefits have been one of the top two drivers of job satisfaction according to the Society for Human Resource Management1. If employees rate their benefits experiences are significantly lower than HR does, companies may not be fully reaping the full value of providing benefits.
HR and Employees Are Not Aligned on Talent Management Issues in Many Global Regions
In the area of talent management, HR leaders across the globe perceive greater alignment between HR and the workforce than employees do. In Canada, Europe and Latin America, employees are significantly less likely than HR to feel their companies provide adequate opportunities for professional growth. In Canada and Latin America, employees are far less likely than HR to believe they get the training needed to do their jobs well. In Europe and Canada, employees do not believe to the same extent as HR that performance evaluations have been effective in their career development. Given the critical role talent management plays in retaining top talent, employers may want to explore these gaps and take action to improve employee perceptions.
Employees Indicate Getting Answers to HR Questions Isn't as Easy as HR Leaders Think
HR leaders and senior leadership are both significantly more satisfied than their employees with the ease of getting answers to HR and benefits questions within their organizations. This disparity is greatest in Asia-Pacific and the U.S., but the gap is significant in Europe as well. Overall, only about half of employees find getting answers to HR and benefits questions "very" or "extremely" easy. Small organizations with less than 50 employees generally have a wider gap in opinion between HR and employees on this issue than larger organizations. Since there is a direct connection between how well employees understand their benefits and whether they feel valued and engaged at work2, these findings suggest that HR leaders may want to evaluate and address this disconnect.
*A complete list of sources and citations can be found in the full report.
About This Report: This report reflects information garnered from three online global studies conducted by the ADP Research Institute in 2013 — one among employees, one among HR decision makers and one among CEO, C-Suite and Senior Management — to gain a better understanding of the similarities and differences of employees' and employers' attitudes and opinions about the companies they work for, the Human Resource function, and challenges that HR and employees face today.