Employer Size, Workforce Age, Industry, and State Influence Annual Health Care Premiums
Looking for actionable insights to help you execute high-value health care benefits strategies that can help deliver maximum return on your human capital investment? The ADP Research Institute℠, a specialized group within ADP, conducted its inaugural client study of health benefits of approximately 300 U.S.-based organizations with more than 1,000 employees. The study's actual premium paid information provides a potential cost benchmark for help guiding strategic health care benefits decisions. The total reported health premiums in the study were approximately $9,562 per participating employee, excluding any costs associated with the funding of a health savings account (HSA) or a health reimbursement account (HRA). However, the study showed wide variations in health premiums paid by employers.
Employer Size is Correlated with Total Premiums Irrespective of Employee Contribution Levels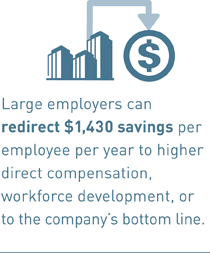 Despite wide disparities in total premium costs on an employer-by-employer basis, study findings show that very large employers (>5,000 employees) pay on average 14% less for health insurance than employers with smaller populations (1,000-2,499 employees). The benefits of these lower premium costs are shared equally by employer and employee. Employers can redirect the 14% savings ($1,430) per participating employee per year (PEPY) to higher direct compensation, workforce training and development, or to the company's bottom line.
Large employers' cost advantages may result from having: 1) more effective purchasing practices and stronger negotiating power with health plans, networks, and third-party administrators (TPAs) compared to smaller firms; 2) self-funded health plans with the potential to reduce total premiums; 3) employee wellness programs aimed at helping to contain costs; 4) a health benefits expert or clinician on staff to help with plan design and communications; 5) Consumer Driven Health Plans (CDHPs), which redirect some premium costs to out-of-pocket spending; 6) more effective audits to help ensure proper member eligibility; or 7) grandfathered health plans that do not require compliance with certain provisions of the Affordable Care Act (ACA).
Study Shows Clear Difference in Overall Health Care Benefits Premium Levels Paid by Industry
According to the study, Manufacturing, Professional/Scientific and Health Care and Social Assistance industries paid substantially higher total premiums. Retail, Accommodation and Food Services industries paid the lowest premiums. Like other forms of compensation, health care benefits are tied to each company's human capital management strategy and workforce profile. Many workforce factors may account for differences in "richness" of health benefits across industries. These factors include the percentage of professionals and skilled trade workers; average employee income; location of employees (and associated costs of health care); and the relative importance that benefits play in recruiting and retaining talent. As the ACA subjects employers to minimum standards of coverage beginning in 2014, it will be interesting to see if premiums continue to vary or become more uniform across industries.
Study Explores Whether Workforce Age Impacts Large Employers' Total Health Care Benefits Premiums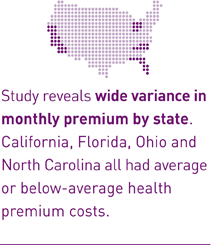 The workforce composition of any industry has a major impact on comparative premium levels. But to what extent is average employee age a factor when comparing premium levels of different industries? To find out, ADP Research Institute computed the average age by industry group and plotted these results against average premiums paid by industry. The Accommodation and Food Services industry, which has a substantially younger workforce (average 36.9 years) than the aggregate norm, pays the lowest composite premiums of any industry group. Manufacturing has the oldest workforce (average 45.5 years) and pays the highest premiums.
Monthly Health Care Benefits Premiums Vary Widely by State
Study findings reveal wide variance in monthly premiums by state. California, Florida, Ohio and North Carolina all had average or below-average health premium costs. A diverse mix of states, including New Jersey, Texas, Indiana, Missouri and Georgia all have higher than average premium costs. Possible causes for these cost variations include the relative age and health of state populations; state insurance laws and state-mandated coverage requirements; regional competition among health plans; and the impact of corporate headquarter location on employer health care benefits purchasing decisions. The ADP Research Institute plans to conduct follow-up analysis to better understand the key drivers behind observed premium cost variations between states.
*A complete list of sources and citations can be found in the full report.
About This Report: Conducted by ADP Research Institute, a specialized group within ADP, this study is based on 2012 actual, aggregated and anonymous employee-level data from approximately 300 ADP health and benefits clients. All states and major industries are covered, as well as employee gender, age, and marital status. Each of the companies in the study has 1,000 or more employees, including both full-time and part-time workers. Due to the small dataset population of union employees, only non-union employees are considered in this analysis.