Does Your Industry and Company Size Affect Retirement Savings Opportunities?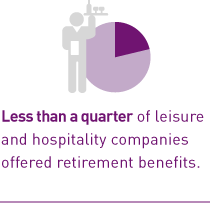 Employees throughout the United States are struggling to accumulate savings for a secure retirement. Workers are living longer and the number of years they will spend in retirement is likely to increase. However, unlike prior generations, they can no longer rely on private pensions, higher home valuations, or Social Security to provide an effective financial safety net for their retirement years.
While research confirms that retirement benefits are highly valued by U.S. employees and job candidates, many smaller employers are not yet offering a company-sponsored retirement savings plan. Why is such a universally popular benefit not more widely embraced by employers? Are retirement savings plans more prevalent in certain industries? Which organizations are more likely to offer a plan?
To help organizations gain insight into U.S. retirement savings trends, the ADP Research Institute® (ADP RI), a specialized group within ADP®, used aggregated, anonymous 2014 payroll transactional data of approximately 10 million employees between the ages of 20 and 69 at about 161,000 organizations to help analyze company-sponsored employee retirement benefits.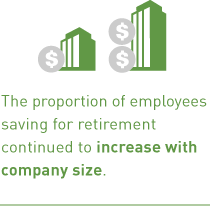 Why don't more companies offer retirement savings
Research indicates that small businesses are less likely to offer a retirement plan benefit. Reasons generally cited include cost, time-consuming plan management, and fiduciary risk. Among companies that currently do not offer a 401(k) or a similar benefit, only one out of five say they are likely to begin sponsoring such a plan within the next two years.[1]
However, because of the increased availability of low-cost, easy-to-manage solutions specifically designed to serve their segment, many of these challenges for small businesses to offer a retirement plan benefit may be more perception than insurmountable reality.
Which industries are more likely to influence savings behavior?
Although the ADP RI study revealed that half of all companies surveyed include retirement plans among their employee benefits, there is a wide variation by industry.
It is clear that each industry influences retirement savings behavior in a different way. For example, approximately two-thirds of manufacturing companies in the ADP RI survey offer retirement benefits, leading the field of nine industry sectors included in the study. A reason for this could be the prevalence of unions in this sector, which typically include retirement benefits as a contractual mandate.
In addition, the study reveals a wide swing between the lowest-saving (leisure and hospitality) sector and the information sector, which had the highest percentage of savers. Less than a quarter of leisure and hospitality companies offered retirement benefits, which is consistent with this industry's high percentage of temporary, part-time and seasonal workforce. According to the study, an examination of average savings rates showed that the professional and business service industry again led the field of nine industry sectors with a 7.1% retirement savings rate. The construction and leisure and hospitality sectors had the lowest savings rates. Part-time and seasonal employment is a heavy factor in each case, as employees in this category may not meet benefits eligibility requirements.
Study results went on to reveal that, regardless of industry, the proportion of employees saving for retirement continued to increase with company size – yet, savings rates declined as company size increased.
Does company size matter?
ADP RI survey data also indicated that an organization's size has a definitive effect on an employer's propensity to offer a company-sponsored retirement plan. For example, nearly all organizations with 5,000 or more employees offered retirement benefits, while barely a third of employers with fewer than 20 employees did.
Small businesses – especially those with very low head counts – have to balance the benefits of offering a company-sponsored retirement plan with a plan's costs, time commitment required for proper management, and the compliance burden embodied in fiduciary responsibilities. Many larger companies already have the infrastructure and resources to manage retirement programs – a capability not usually found in small business staffing models.
Competing for talent is the great differentiator.
With nearly 80% of employees viewing benefits like a retirement plan as a key consideration for accepting a new position,[2] the pressure is on employers who want to succeed and expand. Organizations who can simplify the retirement savings process by including retirement plans as part of their benefits package can gain a significant edge when it comes to attracting, retaining, and maximizing the productivity of skilled workers.
The strategic challenge employers must transform into opportunity is to find a way to balance cost control, time commitments, and fiduciary responsibilities with increased employee satisfaction, productivity, and retention. In today's highly competitive talent market, employers, regardless of industry or size, who are looking to fuel their organization's growth with the best available talent should not overlook the power that comes from offering retirement savings benefits.
Read the full white paper, "Retirement Savings Trends: How Employers Can Extend Coverage and Simplify the Retirement Readiness Process," to gain comprehensive insight into the latest trends concerning U.S. retirement benefits offerings and savings behaviors.
[1] 15th Annual Transamerica Retirement Survey, Transamerica Center for Retirement Studies, 2015.
[2] Bank of America Merrill Lynch Workplace Benefit Report, June 11, 2012.
*U.S. Bureau of Labor Statistics (BLS). A complete list of sources and citations can be found in the full report.
About This Report: The ADP Research Institute® used aggregated, anonymous payroll transactional data from 2014. The dataset included approximately 10 million employees between the ages of 20 and 69 with total annual compensation of $20,000 and up from about 161,000 organizations. The research evaluated the dataset along several dimensions, including demographic profile (age and gender), compensation level, and the industry of employment.
The study, now in its second year, also analyzed the landscape of the employers regarding providing retirement benefits through employment. The retirement savings included contributions made with before- and after-tax dollars (not including matching contributions from employers) to the following types of deferred compensation plans: 403(b) and Roth 403(b), 401(k) and Roth 401(k), 457 and Roth 457, SIMPLE IRA, and 408(k).
Tags: Human Resources Talent Management Performance Management
Go Deeper