Compliance with Affordable Care Act (ACA) and other Regulations is a Top Concern for Midsized Businesses
As the economic recovery limps along, complicated by ongoing political and regulatory uncertainties, U.S. businesses of all sizes are still struggling to build a secure foundation for growth and expansion. But midsized businesses, which typically have neither the agility of a small company nor the resources of a large enterprise, may be especially vulnerable in such a tumultuous business climate. So what are the most pressing concerns and challenges facing leaders of midsized businesses today? To find out, ADP Research Institute®, a specialized group within ADP, conducted an online survey of more than 1,000 owners and executives at companies with 50-999 employees in May 2013. The survey results highlight the need for continued vigilance in the area of compliance, especially given that the Affordable Care Act (ACA) and related government regulations may pose potentially significant business and financial risks.
Health Care Reform Issues Dominate Midsized Business Concerns
The U.S. Supreme Court's decision to uphold most of the ACA's constitutionality has vaulted Health Care Reform issues to the top of the list of specific concerns affecting midsized businesses. When survey respondents were asked to rank their top three business concerns, the cost of providing health coverage and benefits came in first with ACA legislation following a close second. In fact, ACA legislation showed the most significant increase over 2012 (prior to the Supreme Court decision) of any ranked concern in the 2013 survey.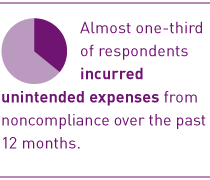 ACA Complexity Dampens Confidence of Many Midsized Business Leaders
Less than a year after the Supreme Court's ACA ruling most 2013 survey respondents (70%) express confidence that their organizations will be compliant with the ACA's new regulations. In addition, 60% report having the tools and information needed to make decisions on the best health benefits strategy for their company. Less than half of respondents, however, express confidence that their company understands all the ACA regulations. These seemingly contradictory findings suggest that midsized businesses may need to take steps to better understand ACA requirements in time to develop a compliant, cost-effective benefits strategy for their organizations.
Misconceptions about Compliance Persist Among Midsized Businesses
When it comes to compliance there appears to be a misalignment between midsized business leaders' perceptions and experiences. The vast majority (83%) of survey respondents express confidence that their organization is compliant with payroll tax laws and other government regulations, but for many, this confidence is not reflected in actual experience. Almost one-third of all respondents report incurring unintended expenses, such as fines, penalties or lawsuits, resulting from noncompliance with federal, state or local regulations over the past 12 months. In addition, those midsized firms that were fined or penalized reported an average of six fines or penalties per year. These results suggest that all midsized businesses need to pay close attention to compliance as laws and regulations continue to evolve and multiply.