Are Affordable Care Act (ACA) Health Care Costs Driving Workforce Management?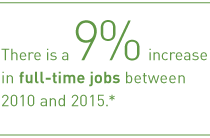 The Cause or One of Many Variables?
When employers reviewed the requirements of the Affordable Care Act (ACA) as the new law rolled out, costs – at least initially – seemed to drive thinking and strategies. In particular, the ACA definition of a full-time employee – generally an employee who worked 30 or more hours a week – was front and center. By restricting employees to fewer than 30 hours, employers could avoid the requirement to offer them health care coverage, sidestepping a potentially large new expense. Logically, if that thought evolved into a strong trend, the market would see an increase in part-time jobs with fewer hours worked per job, overall.
To help employers gain a better understanding of the affects of the Affordable Care Act on the part-time workforce in the United States, the ADP Research Institute®, a specialized group within ADP®, studied 10 million active employees at 75,000 companies in 2013 and 2014. The study utilized aggregated and anonymous payroll data, which revealed employers – when it came to workforce planning and management – were not as fixated on limiting worker hours due to ACA provisions as one might think from anecdotal evidence in the market.
The impact of the ACA on workforce planning, indeed, makes it part of a multifaceted mosaic, but by no means is it the entire picture.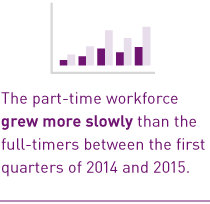 An Improving Economy
The U.S. economy is beginning to recover from recession, resulting in more employment opportunities that are full-time rather than part-time. An improving economy is a positive development that helps workers seeking full-time employment achieve that goal, including those who previously had only been able to obtain part-time work.
According to data from the U.S. Bureau of Labor Statistics (BLS), there was a 9% increase in full-time jobs between 2010 and 2015, while the total number of part-time jobs decreased slightly. Additionally, when the total number of part-time workers is split into two categories – those who choose part-time work for convenience or personal reasons and those who are working part-time while waiting for a full-time opportunity – the number of involuntary part-time workers fell by 27%. The ADP Workforce Vitality Index also shows the part-time workforce grew more slowly than the full-timers, between the first quarters of 2014 and 2015.
An improving economy is clearly a major enabler that provides employees with the increased freedom to move from part-time to full-time status.
The Changing Workforce Landscape
As the Baby Boomers (those born between 1946 and 1964) continue to retire and 18-to-24-year-olds are entering the workforce at a declining rate, the workforce landscape is evolving. These changes could signal an increased demand for talent, causing employers to place a higher priority on attracting, hiring, and retaining full-time workers instead of limiting employee hours because of the ACA.
The Non-Static Nature of the Part-Time Workforce
It is also necessary to examine whether and how often workers migrate in and out of the hourly categories that enable them to be eligible for full-time ACA benefits.
The seasonal nature of some work and the special needs of certain industries create a natural ebb and flow reflected in the number of part-time positions and average hours worked during any given week or quarter. The magnitude of the variation may simply be a reflection of an industry's needs or customary scheduling that were in place long before the ACA became a cost and compliance consideration for employers. For example, manufacturers typically reduce work hours during holiday periods, while leisure and travel employers typically do just the opposite.
Employers open their doors each day because of the goods and services they can provide to customers and clients. That makes certain operational costs – such as whether an employee with a necessary talent is considered full- or part-time by the ACA – secondary when it comes to maximizing labor utilization for optimal revenue generation and service.
In the end, workforce management is a balancing act influenced by multiple variables – from an improving economy, the changing generational make-up of the workforce, and the non-static nature of the part-time worker segment. The costs associated with providing health care coverage to employees working 30 or more hours is one of those variables, but certainly not a major driver. Analysis suggests that the ACA's impact on employment policy up to this juncture has been extremely small.
*U.S. Bureau of Labor Statistics (BLS). A complete list of sources and citations can be found in the full report.
About This Report: This report is based on aggregated and anonymous data from approximately 75,000 U.S.-based client organizations. Researchers used payroll data from 2013 and 2014. All the quarters had similar descriptive statistics.
The study captured information from approximately 10 million active hourly employees working for a single organization having 50 or more employees. By leveraging actual data representing multiple industries across all 50 states, the research presents a snapshot of the part-time workforce and provides valuable insights. For purposes of this report, the ADP Research Institute defined part-time work as fewer than 35 hours per week.
Tags: Benefits Administration