Ask questions.
Get answers.
Find solutions.
ADP helps you navigate the changing
landscape of Health Care Reform.

Download the Whitepaper: "5 Strategies To Help
Businesses Navigate
Health Care Reform NOW"

Watch the Video
Health Care Reform
FEATURED PRODUCT
ADP helps you stay on top of the latest Affordable Care Act (ACA) rules, regulations and requirements – and how they'll impact you and your business – with real-time updates from experts on the front lines of Health Care Reform.
ACA Compliance Timeline for Employers
Insights & Tools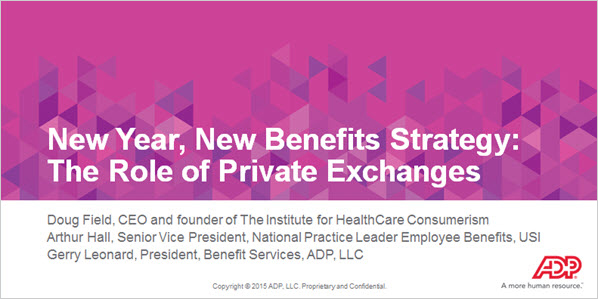 Listen to an insightful and informative panel discussion to help you understand Private Exchanges and the role they can play in your overall benefits strategy.
View all Insights & Tools
Webinars
Learn the best strategies for maintaining compliance with the Affordable Care Act. Watch presentations by ADP's health care reform experts and case studies from real clients who have used ADP to successfully navigate the ACA.
View all Webinars ›
Spark Blog
Spark is your go-to source for workforce management news, stories and tips, including the latest health care reform news, developments, and trends.
View all Related Posts ›
ADP Research Institute
Search our easy-to-read abstracts to find reports and white papers with timely and useful information on compliance.
Read more on Compliance Data and Trends ›
Stay Informed
Navigating Health Care Reform Report
Download our report "ACA Compliance — A Blueprint for Employers"
Insights & Legislative Updates
Get the latest Health Care Reform insights and legislative updates directly in your inbox from ADP Eye on Washington.
Let's talk.
It's time for comprehensive Health Care Reform Management made simple by ADP.
Customer Service
Our products
Comprehensive Solution for ACA Compliance
Payroll and Human Capital Management
Midsize Business Professional Employment Organization (PEO)
View All Products ›